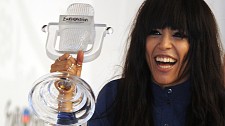 You give a little, you take a little…Norwegian artists Tone Damli and Maria Haukaas Mittet are both participating in the second semi in Gothenburg in their own way this weekend and as a token of thanks, Norway get to borrow Sweden's very own queen of Eurovision, Loreen for a spectacular interval act in this year's Melodi Grand Prix final.
Fans who have already secured themselves a ticket for Saturday's Melodi Grand Prix final in Oslo Spektrum are in for a treat they won't forget for some time. Broadcaster NRK confirmed this morning that Sweden's queen of Eurovision Loreen will be making the trip to Oslo to take part in the final and to pay tribute to the winner of Melodi Grand Prix 2013 in her own special way.
Following her victory last May in Baku, Loreen has been in great demand all over the continent. She has taken time out from her busy schedule to come to Oslo and to wow spectators with a unique performance of her Melodifestivalen entry from 2011 My Heart is Refusing Me. Choreographer for Melodi Grand Prix Tore Myklebust reveals that her stage show will be of the spectacular sort, where she will be accompanied by eleven dancers on stage, presented in a slightly ethnic, Game of Thrones inspired number.
Also on hand to bring some sparkle over this year's proceedings will be last year's Norwegian winner, Tooji, who will be performing a special version of his winning entry, Stay. Of returning to the stage where he won the title last year, Tooji tells NRK that "It will be so special and quite nostalgic to be up ther on stage in the Spektrum again. The audience will get to see and hear a very special version of Stay."
You might also want to read: