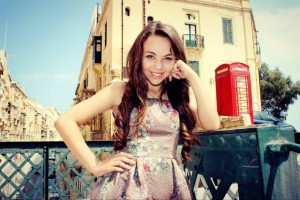 Federica Falzon will be representing Malta on home soil with the song Diamonds which has now premiered. It is a wonderful and evocative song, sung entirely in English, with expressive and dramatic melodies and a pop opera style that we have never heard before at the Junior Eurovision.
Diamonds is the title of the song which will represent Malta at the 2014 Junior Eurovision Song Contest in November. It has been officially premiered at singer Federica Falzon's school St Benedict's College in Hal Kirkop and more than three hundred students have been supporting her.
Federica is only 11 years old but she has an extensive professional career. She has performed at several live concerts and this is not her first time representing her home country in an international music contest. In 2014 she represented Malta in the Sanremo Doc in Italy where she performed a version of La Voix, the song that Malena Ernman sang for Sweden at the 2009 Eurovision Song Contest. A few months ago she won the talent show Ti Lascio Una Canzone in Italy and a few days later she was chosen by the Maltese broadcaster to have the honour to sing on home soil at the 2014 Junior Eurovision Song Contest.
Federica is a mezzo-soprano and she has a unique and outstanding versatile voice that sometimes sounds beautifully aggressive and other times melodic and lovely.
Her Junior Eurovision entry, Diamonds, has been written by Elton Zarb, Matthew Mercieca and Gillian Attard (the authors of last year's winning song The Start) together with Federica herself. "It is a super emotional song, which gives me shivers every time I hear it" said Gillian Attard, one of the composers.
About the inspiration for the video, Nadya Cachia, the video director, stated: "The song inspired me immediately! I also have many dreams. Though at first some dreams may seem out of reach, if one works on them, they may become possible and reachable".
According to the broadcaster, the song and the video use diamonds as a metaphor to suggest that no dream is out of reach as long as one believes in one's own dreams.
You can watch the official video of Diamonds below.
You might also like to read: