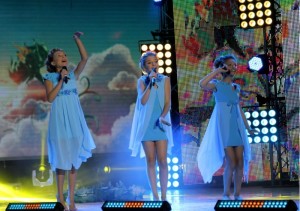 Last evening in Bukovel the national final to select the Ukrainian representative for the 2014 Junior Eurovision Song Contest was held. Trio Sympho-Nick was the favourite of the audience and the jurors thus they will represent Ukraine in Malta with their song Pryide Vesna.
The participants have spent the last days together in a special holiday camp organized by the Ukrainian broadcaster NTU where they have been preparing their stage show with choreographers, producers, and well-known Ukrainian music professionals.
Eighteen acts took part in the national final last evening and the lineup of the show was as follows:
1. Anna Trincher
2. Duet Zviosdnaia Kapel
3. Anna Likhota
4. Trio Fresh
5. Veronika Yerokhova
6. Viktoriia Sviatogor
7. Duet Double Smile
8. Yasmin Taras
9. Stasy MJ
10. Denys Frolov
11. Nina and Vasya Boikova
12. Trio Smile
13. Sofiia Rol
14. Elizabeth Zadoia
15. Sofiia Yaremova
16. Mariia Tarnavska
17. Trio Sympho-Nick
18. Yulianna Vasylovska
The winner was decided by an equal combination of the votes from the audience by SMS and the voting of the professional jury which was made up of last year's Junior Eurovision winner Gaia Cauchi, 2011 Eurovision Song Contest winner Eldar Gasimov, singer and producer Andrey Frantsus, composer Alexandr Zlotnik and actress and tv host Ruslana Pisanka.
Trio Sympho-Nick is made up of three girls (Marta Rak, Sofia Kutsenko and Amaliya Krymskaya) and they entered the selection after becoming the winners of the talent show Music Academy Eurovision. Their song, Pryide Vesna, which means Spring Will Come, is about dreams coming true. They dream of the unity of their country and they believe that people can make it happen.
Besides the performances of the eighteen candidates we enjoyed a great show with several guests including Eldar Gasimov and Zlata Ognevich (2013 Ukrainian representative) who premiered their duet song entitled Ice And Fire. Sofia Tarasova, who won the runner-up prize at last year's Junior Eurovision representing Ukraine, performed a song called You Can Change Everything, and Gaia Cauchi sang a remix of her winning song The Start.
In the videos below you can see Trio Sympho-Nick performing their Junior Eurovision entry Pryide Vesna and Eldar Gasimov and Zlata Ognevich singing Ice And Fire.
You might also like to read: