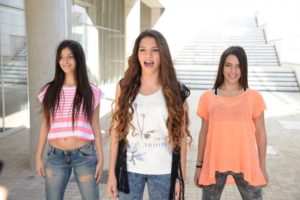 Sophia Patsalides was chosen internally by Cypriot broadcaster CyBC back in July and her Junior Eurovision entry has been officially presented earlier today. It is an upbeat song called I Pio Omorfi Mera which means The Most Wonderful Day.
Last July, CyBC officially announced that Cyprus would return to the Junior Eurovision Song Contest after its four year absence and Sophia Patsalides was chosen as the Cypriot representative by an internal selection.
Her Junior Eurovision entry, I Pio Omorfi Mera, is an upbeat dance song with an electronic beat and a youthful sound. It has been written by Sophia herself in collaboration with Alex Panayi, who has represented Cyprus at the Eurovision Song Contest twice in 1995 and 2000, and Stavros Stavrou who is the author of a number of hits. The song has been presented in a bilingual version, the same that she will be singing in Malta, with lyrics in Greek and English.
Sophia was born 13 years ago in Cyprus capital city, Nicosia, and she has an exceptional vocal talent. She has been interested in music since she was a small child and she started singing when she was three years old. She began taking piano lessons at the age of five and nowadays she studies singing at the performing arts center Potenzia Del' Arte. She has appeared in several tv programs and has performed at many charity concerts and musical shows having recorded a number of songs alongside renowned artists.
The shooting of the video took place last Friday and most of the people on it are fans who were invited to be part of it. You can watch it below.
You might also like to read: