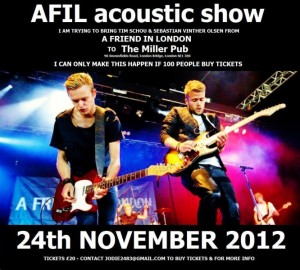 Earlier this year British fans of A Friend in London had the chance to experience the band live as they joined New Kids On The Block and Backstreet Boys on a European tour. Now the chance is there again as they are up for a small intimate performance in London on the 24th of November.

A Friend In London has been busy since they represented Denmark at the 2011 Eurovision Song Contest and scored a 5th position for their catchy song New Tomorrow:
They went to Canada to record their debut album, which will hit the stores in January 2013, they have released several singles and also joined the two boybands New Kids On The Block and Backstreet Boys on a European tour. It was on this tour the ground for the performance at The Miller Pup in London next month was layed. The organiser of this event, Jodie Loughrey, met the the band on this tour and afterwards spent several months communicating back and forward arranging everything.
On the 24th of November she is ready to welcome lead singer Tim Schou and singer and guitar player Sebastian Winther Olsen and 100 fans at the pup in London. This event is advertised as being a small intimate performance by the two band members so something special is in wait for the fans.    
You can read more about the event at the Facebook page where you can also contact Jodie Loughrey for more information. 
You might also want to read:
A Friend In London's debut album, Unite, scheduled for 21st of January 2013
A Friend In London wants to be on The Ellen DeGeneres Show
Soluna Samay and A Friend In London's Tim Schou to raise money for children's birthdays
Below you can see our video of A Friend In London's performance at the Eurovision Song Contest where they finished 5th with this song New Tomorrow. 
Links
A Friend in London performance in London on the 24th of November