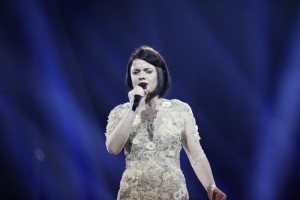 Hersi is back for her second rehearsal of One Night's Anger today. The albanian delegation did quite a bit of experimenting in terms of backdrop and staging the first time round, so it would be interesting to see if they had made any decisions ahead of today's rehearsal.
Visually, Albania's One Night's Anger has come on considerably since the first rehearsal. We begin with a rear view of Hersi looking out across the hall and she has ditched the black dress in favour of an ivory coloured sheer floor length dress with intricate lacework in gold and peacock detail. She's still atop the podium flanked by her two backing singers on the stage floor amidst the dry ice.
There are some fantastcally effective shots of her with many downlight spots forming a V shape behind her against the blue of the backdrop. Both clouds and trees have been kept by the Albanians for their backdrop. The imagery and dry ice work well together to build up the dreamy, meandering sound of the song. A guitarist joins Hersi on stage via the catwalk mid song for a mini solo. The addition of lightning on the backdrop over the black trees works extremely will with the dramatic cimax of One Night's Anger.
Hersi has warmed considerably more to the camera today, smiling a lot more which comes across very nicely. There are some dramatic close ups of her too which provide a nice contrast. In terms of her performance, Hersi seems to be very much in control, with some gesticulation, not overly done as we have seen has been the tendency with others. Her vocals are vastly improved since the first rehearsal a few days ago and are very pleasing to the ear. This isn't the easiest of entries to sing, so Hersi should be congratulated on her efforts today.