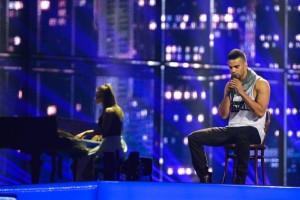 There is a lot of anticipation for Hungary's first rehearsal as the country is one of the pre-contest favourites to win this year. American born artist András Kállay-Saunders has been trying to represent his Hungarian mum's native country for the last three years and he finally got the chance to do so with the song Running.
The song starts with a shot of András. The singer is wearing a sleeveless white top and a scarf around his neck and sings sitting on a chair accompanied by a pianist in the background. The stage is initially lit in blue and there is an impression of a night cityscape in the background; the lighting changes into bright red for the first chorus, when Andras gets off his chair and runs down the runway in time for the 'She keeps on running, running, running' line of the song.
During the second verse, a male dancer appears from the left of the stage and approaches the pianist who leaves her piano as they both start dancing intensely in a routine whose sequences hint to domestic violence. András performance is strong, his face looks strained as he moves around the stage but this matches the anguish of the song's lyrics. There is a mix of close and long camera shots, including an upside down panoramic zoom out. The stage remains bright red for the second chorus then turns blue for the finale when both dancers approach András; he lets the female dancer embrace him and, with a calm but firm gesture, pushes the male one away from her. This is a good performance and a well worked presentation.