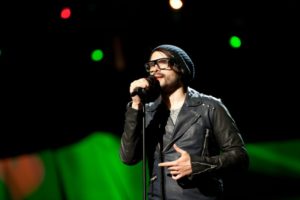 ByeAlex returned to the stage for the second rehearsal for Hungary. He performed three faultless runthroughs. It was a simple rendition of Kedvesem.
Kedvesem is a simple laid back indy rock type song given a remix by DJ Zoohacker.  The performance is not about lots of movement on the stage. It is stripped back to make it simple but edgy.
ByeAlex is joined on stage by a male guitarist sitting at a stool.  There is also a female backing vocalist.
The lighting begins with the green colour and with the use of a diamond shape. Then the English words and animals such as a cat in different sizes scroll accross the screen in different vivid colours.
There are no gimmicks or dancing needed with the performance.  ByeAlex looks relaxed and laid back as he delivers a competent vocal show.  He is wearing a black leather jacket today and a beeny hat and large glasses.
There were no major changes to the first set of rehearsals that took places earlier last week.
The camera shots are also quite effective as they moved slowly and they show ByeAlex and his guitarist and backing singer in cool and relaxed moods.