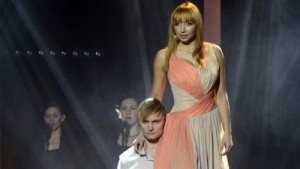 It's been twenty years since Estonia made its debut on the Eurovision stage. A canny coincidence also that a pattern is starting to emerge from ten years ago; first a win for Sweden followed by a Danish win and we all know how what followed in 2001. Estonia chose tonight, bringing them closer to repeating history that happened 13 years ago.
An expectant audience were gathered at the Nokia Concert Hall in Tallinn tonight and the mood was jubilant as hosts Marko Reikop and Henrik Kalmet wished viewers welcome to tonight's final. With some of the biggest names in the Estonian music industry taking part in tonight's show, the ticket to Copenhagen is highly prized and the ultimate form of validation.
(More information on the participants can be found in our get to know articles for semi 1 and semi 2)
The songs:
01. Brigita Murutar – Laule täis taevakaar (Sky full of songs) (T & M: Rainer Michelson / Feliks Kütt)
Youthful Brigita Murutar is the perfect way to get the show up and running with her chirpy little number Laule täis taevakaar. She had selected an elegant little pale lilac number with belt. Her stage was preominantly lilac coloured. Upbeat and summery with the irresistible addition of mandolin, banjo and accordion, it all comes together perfectly. She exudes an innocent charm while performing sugar laden vocals without sounding sickly, which may prove a big draw with viewers. With plenty of circling shots of Brigita showing off her winning smile, she probably melted the hearts of viewers across the nation. The only gripe however is that she came across as quite stiff before walking down the small catwalk towards the end of her song. Simply charming.
02. Traffic – Für Elise (For Elise) (T & M: Stig Rästa / Silver Laas)
The folksy vibe is continued with the band Traffic singing their number Für Elise. Silver enters the stage wearing his by now trademark black smoking jacket with red shirt to complement, his band members had made less of an effort. The red colour was picked up in the lighting on stage. The pace picks up ever so slightly and Silver's honeyed vocals are spot on as he performs this banjotastic little piece of hoedown that had the audience clapping along from the first bar. Again, the three guitarists provide him with solid backing, both in the intrumentation and vocal department. Traffic are a band that clearly love what they do; it shone through in their performance tonight. With plenty of sweeping shots of the stage and close ups of all of the band members, this came across as a very strong stage show indeeed.  
03. Norman Salumäe – Search (T & M: Norman Salumäe)
Waif like Norman Salumäe is next up with his delicate and intricate composition Search. He walked on stage talking to the audience wearing a black suit with blue shirt. The stage suddenly went dark with a single downlight illuminating his outline as the camera circled him as his five backing singers gradually came into view. They all stood in a semi circle behind him and gave him solid backing vocals throughout the performance. On initial hearing in its semi final, this had no impact, but it is clearly a grower. Taking numerous times to be heard before it can be fully appreciated; it's lack of instaneity may well be its downfall. Intelligent lyrics and a highly original arrangement combine to make this a quality entry. Norman gave a highly emotive performance with a lot of depth. Too many circling camera motions however left one with a distinct sense of motion sickness. 
04. Wilhelm – Resignal (T & M: Lauri Kadalipp)
Wilhelm are the fourth act up with their acoustic set Resignal. Anett and Kaisa's vocals prove once more to be faultless, as delicate as porcelain and soft as the beat of a butterfly's wing. Anett was wearing a floor length emerald green gown, whereas Kaisa had gone for a patterened brown dress and their band members had plumped for similarly natty attire. Dry ice or smoke covered the stage floor during the performance. This is the third entry so far tonight to have a distinct folksy feel – it floats along at a gentle pace before reaching a kind of climax midway as the guitars and vocals intensify, bringing an altogether darker mood to the song. With many intense looks into the camera from Anett, this is another one that came across well on screen.
05. Lenna – Supernoova (Supernova) (T & M: Mihkel Raud)
One of the bigger names is up next, Lenna, back for another pop with her Supernoova. Her outfit choice for the evening was the same as in the semis; a simple white blouse paired with blue jeans. The blue was picked up in the backdrop with white and pale blue rays and spotlights, which turne in a fan formation halfway through. This is a quirky number, quite hard to get hold of in many ways – pop rock, with a slurred, sluggish sound, but a classic chord progression that gives a nod to the likes of the Beatles as well as Nirvana in its composition. Sultry and seductive, Lenna gives it all with her at times dreamy, sometimes powerful vocals and plenty of gesticulation, holding her arms out in a cross formation, looking intensely into the camera. A good, all round effort, but quite a dampener compared to some of the other acts tonight.  
06. Super Hot Cosmos Blues Band – Maybe-Maybe (T & M: Mati Sütt / Janno Reim)
The rock theme is carried on with Super Hot Cosmos Blues Band and their strummed piece of attitude Maybe-Maybe. Cosmos Jay Ray oozes cool without even breaking into a sweat with his no nonsense vocals as he stands there in his plain black shirt and his sunglasses. The stage was quite dingy with just a few purple slivers of light before white rays began to light up the stage, showing us his three female backing singers shaking and shimmying their way through the song in black tassled dresses. His two band members were also dressed completely in black. This is a simple, stripped down arrangment of a few chords repeated over and over, making it instantly hummable. The addition of the yeah-yeah-yeahs gives it somehow a rather sexy, retro feel with just a hint of T Rex about it. A huge glitterball looked slightly at odds with the feel of the song and in keeping with the rough and ready feel of the song, one of the guitarists was playing a guitar made out of a jerry can.   
07. Maiken – Siin või sealpool maad (Here on the other side) (T & M: Kadri Koppel)
The mood changes significantly as Maiken takes to the stage to perform her hauntingly fragile piano led ballad Siin või sealpool maad. Her choice of outfit reflected the simple, understated nature of her song, a floor length mauve dress. The stage opened bathed in darkness with dry ice covering the floor and a single ray shining down on her before more light was used, turning bright green mid song. Mournful and filled with longing, Maiken's vocals resonate more than just an echo of Bette Midler at times and this sweet little number has a lot going for it. Contemplative and distinctly a case of less is more, the vocals aren't perfect, but they're not meant to be – this has a raw, vulnerable quality about it. She poured her heart and soul into the visual performance, making her way doen the catwalk for the big key change, illiciting much applause from the audience. Mysterious and very effective.
08. Kõrsikud – Tule ja jää (Fire and Ice) (T & M: Kõrsikud)
The three rotund members of Kõrsikud are up next with their guitar led anthemic number Tule ja jää. Theirs was a sunny staging filled with orange. The lead vocalist was sporting his waisctcoat and bowler hat, one of the other ones wearing a sixpence flat cap. This is another song that benefits greatly from keeping it simple. The chorus is uplifting and beckons us to wave scarves, lighters and anything we should have at hand in the air. The slightly psychedelic touch right before the key change is a nice touch. This has an overall very honest, organic sound which comes across very well on stage. On the whole a sound vocal performance, if a bit shaky in places – they were another band who clearly thoroughly enjoyed themselves on stage. Extra points for a cymbal, a ten string electric bass without a body and xylophone on stage!
09. Tanja – Amazing  (T & M: Timo Vendt / Tatjana Mihhailova)
And now for something completely different, possibly the most commercial and polished number of the evening, it's Tanja and her clubby number Amazing. She bade folk good evening in the same loose peach and white gown. With gravity defying dance moves with her male dancer, you sit there thinking "How on earth does she do that?" Tanja shows remarkable vocal control, managing to keep her pitch despite the strenuous routine. she was admirably aided by three female backing singers dressed in discreet black at the rear of the blood red stage. Some of the moves left you out of breath just watching. The sound of the song itself is fresh, modern if a little cold and calculated compared to some of the others tonight. Tanja really impressed with her voice tonight, even though the odd note here and there was off key. This was the most athletic of stage shows this evening without a doubt. She was out of breath when coming backstage though!
10. Sandra Nurmsalu – Kui tuuled pöörduvad (When the winds turn) (T & M: Sven Lõhmus)
The final number of the evening is an song with pedigree on both sides. Sandra is a seasoned performer, having already proven her merit back in 2009. Sven Lõhmus clearly has a teft for creating interesting, irresistible tunes. Sandra had opted for the silky sapphire blue dress she wore in her semi. The staging was also replicated with the Kon Tiki sail, the bongo drums and her three backing singers shaking a variety of percussion instruments. The stage started off as blue, with interspersions of yellow. Kui tuuled pöörduvad has so much and more giong for it. Majestic, ethnic, sweeping and infectious, this could do very well indeed. They have shortened down the lengthy intro, making it instantly more palatable. Sandra's vocals weren't the best we've heard, but were more than acceptable. Lots og close up shots of her porcelain doll face during the performance, before she got onboard the raft which was clouded in smoke and she was raised up to great effect as the song reached its climax. Definitely the number with the best staging tonight, even though it sounded rather flat in places.
The show:
The show was opened to rousing cheers as last year's victor Birgit Õigemeel took to the stage to give us a reprise of her winning entry Et uus saaks alguse in a long, flowing powder blue dress. She was then joined by 2012 entrant Ott Lepland to perform their duet Pea meeles head from her latest album. All acts came into the studio, followed then by the two male hosts of the evening, wesring complementing chequered jackets in shades of grey and rather natty ties in vibrant colours. After each act came off stage, Henrik Kalmet was waiting in the wings to give a short interview after their performances. Before each performance a bizarre animated postcard from rural Estonia was shown, using typically Estonian humour apparently recreating well known Estonian sayings and featuring the popular Estonian animated figure The Old Man. All acts were stuffed into a rather cramped looking green room that was located just behind the stage and Henrik took us there on a number of occasions to soak up the atmosphere.
The jury was on hand to cast their votes tonight, and consisted of amongst others Maarja-Liis Ilus, Ott Lepland and Getter Jaani. 
Marko and Henrik were reunited on stage to introduce the interval act which was a childrens band featuring talented youngsters who were actually playing their instruments, unlike in Eurovision!  
The voting:
Once the final number had been performed, lines were open for twenty minutes and we were treated to a recap of all ten contenders. The jury members were the first to announce their votes, and the Super Hot Cosmos Blues Band led the voting picking up most of the top votes. Favourite Sandra Nurmsalu sank withuot a trace, but Lenna managed to hold her own, staying in second place for much of the jury vote. The suspense mounted as we awaited the arrival of the public vote. Marko was the man with the answers. Tanja became quite tearful as she was announced as one of the superfinalists, followed unsurpisingly by Super Hot Cosmos Blues Band.
A new ten minutes of voting was opened as the youngsters from the Gustav Adolf Music School took to the stage to perform as the second interval act. While the countdown came to a close, more kids took to the stage, this time from the VHK bänd Rhythm Adventure performing a cover of Aviici's Hey Brother who charmed the pants of all present!
The nerves were clearly palpable with a tearful and shocked Tanja being declared the winner of the duel. 
Estonia at the Eurovision Song Contest:
Estonia made its debut at the contest in 1994, after having tried unsuccesfully in 1993, failing to make it through the preselection with Janika Sillamaa and Muretut meelt ja südametuld. Silvi Vrait garnered a scant two points in Dublin with Nagu Merelaine, forcing Estonia to sit out the 1995 contest. In 1996 however, they made a triumphant return with the unlikely partnership of Ivo Linna and Maarja-Liis Ilus, performing Kaelakee hääl, finishing fifth. This started a string of impressive results, including favourites such as Maarja's Keelatud maa (1997), Ines' hotly tipped Once in a lifetime (2000) and their surprise win in 2001 with Tanel Padar,Dave Benton and 2XL with the party number Everybody. A bronze placing on home turf followed with Swede Sahlene and Runaway in 2002 before the downturn came. Failing to qualify for five consecutive years, from 2004-2008, Urban Symphony's Rändajad was a remarkable return to form in Moscow, 2009, finishing sixth. The same result was achieved by Ott Lepland three years later with Kuula in Baku. 2014 will mark the twentieth anniversary of Estonia at the contest; Estonia may be small, but they pack one hell of a punch at times.