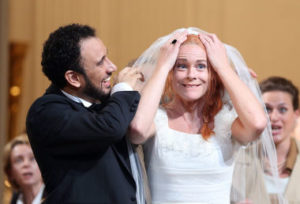 She may not have wowed the audiences with her poperatic Eurovision entry La Voix, but if she sticks to what she knows best, ie opera, it seems as if all that Malena Ernman touches turns to gold. Her latest opera stint in Vienna is no exception.
Last weekend saw Malena Ernman take to the stage for the premiere of the opera La Donna Del Lago (The Lady of the Lake) by Rossini. Donning a ginger wig made for some unjust comparisons to Pippi Longstocking, but comparisons stopped there. Judging by reactions, Ernman gave the perfomance of her career! The Theater an der Wien made a very shrewd move in casting Ernman in the role of Elena, a beautiful lady who while looking for her true love becomes involved with a king and ends up rescuing her family from imprisonment at King James' castle in what can best be described as a melodrama with a twist.
From the moment the curtain went up, Ernman dazzled both critics and opera lovers alike, with the national press seemingly not able to get enough of the star, with reviews such as "Huge cheers for Malena Ernman" (OÖN), "With Malena Ernman as the leading lady, a luminous soprano who masters sentiment and coloratura brilliantly" (Kronen Newspaper), "Malena Ernman…the ever credible Elena…played with such delicate charm" (Der Standard) and the compliments keep on flowing thick and fast.
Ernman is no stranger to Vienniese opera fans either, having previously played in the Händel opera Serse at the same venue last year. The Swedish starlet has also received Royal recognition for her work, having been awarded the prestigious title of Singer of the Royal Swedish Court back in 2010. Little wonder that Ernman is still in great demand outside of her native Sweden, success being practically guaranteed with her name on the bill.
You can see an excerpt from Ernman's latest work below: