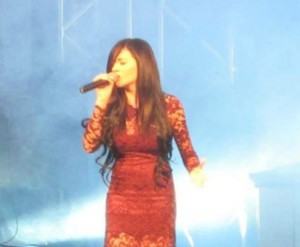 Domenique Azzopardi has participated twice so far in the Malta Eurosong selections. She has just participated in the Discovery Festival in Bulgaria where she won the The Best Promising Artist Award. She performed two songs, one a cover version, and the other an original song composed by Marc Paelinck and Bart Herman.
Domenique Azzopardi is a very popular and respected recording artist and singer from Malta. Since a young child she has been on the stage performing. She participated in several times in the Malta Junior Eurovision national selections and taken part twice in the Malta Eurosong finals. First she sang I'll Follow The Sunshine in 2011 and in 2013 she sang Too Little Too Late.
Domenique has participated in several local festivals in Malta such as the Malta Summer Hit Festival and the Konkors Kanzunetta Indipendenza contest. In 2012 she won the third place award for the song Tama U Kuraġġ.
Now Domenique has just returned from Varna in Bulgaria, where she represented Malta at the Discovery Festival that took place over two days on 17th and 18th May. She performed two songs. First she sang her version of Hallelujah (written by Leonard Cohen but sung by many artists including Alexandra Burke. Then she performed a new song composed by Eurovision songwriter Marc Paelinck (2004 ESC Belgium, 2009 ESC Malta, 2013 ESC Belarus) and Bart Herman. The song is called Samani Sahe. Domenique won The Best Promising Artist award at the competition.
You can see Domenique perform her Discovery Festival entry, Samani Sahe, on the Maltese tv show, Sibtek, below.
You may also like to read –