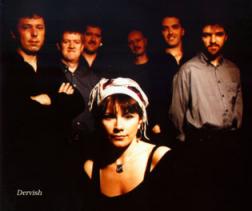 Irish folk music exports Dervish want to thank the loyalty of their Irish fans by giving back this summer. And what better way to contribute by taking part in a non profit charitable event under the auspices of the Irish president himself.
Sextet Dervish have established themselves asone of the forerunners of the Irish folkmusic scene since their formation in the late eighties. During the course of their career, they have released no fewer than eleven albums, their latest being in 2010, Stage To Stage. Representing Ireland with the lively folk number They Can't Stop The Spring at the 2007 Eurovision Song Contest opened up a lot of doors to the group and cemented their popularity among fans of folk music, despite coming last.
The group have always shown a keen interest in philanthropy, with involvement in many social issues, most recently with a cultural boycott of Israel in Spring 2012. This time around though, their sights are set closer to home. They describe on their website the honour they feel after receiving an invitation from none other than the President of Ireland, Mícheál D. Ó hUiginn to perform this coming Sunday at the Áras an Uachtaráin, the president's official residence. The President will be holding an official function here to honour and acknowledge the efforts of many who work to serve their communities. And what better way of putting the icing on the cake than to have Dervish play to the attendees?
A mere two weeks later, the group will then take a hop and a skip over the Irish Sea to the neighbouring United Kingdom, where four dates are confirmed for August:
03.08. David Hall, Somerset
04.08. Sidmouth Folk Week, East Devon
05.08. Wickham Festival, Wickham
26.08. Shrewsbury Festival, Shrewsbury
The dates in the UK will hopefully provide Dervish with some inspiration, as they begin with rehearsals for a new studio album, their first since the 2007 release Travelling Show. The project is reported to be in the capable hands of producer Mike McGoldrick and elements of the project will no doubt feature in the new show that the group have confirmed to be touring with in 2013, taking in 7 stops in the United States from the 9th until the 22nd of March.