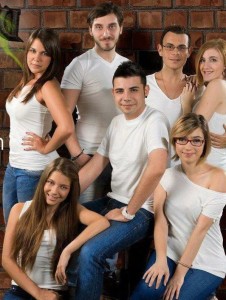 Dejavu is a musical drama showing on Net tv in Malta. The show features many Maltese Eurovision entries and songs from their national selections over the years. The show has also featured guests such as Franklin Calleja, Domenique Azzopardi and Ylenia Vella, who all feature in this year's Malta Eurosong selection.
Dejavu is now in it's second season and is very popular in Malta. The theme song, Dejavu, is composed by Phillip Vella who was runner up to Chiara and Angel in the 2005 Eurosong. It was originally recorded by Olivia Lewis who represented Malta at the 2007 Eurovision Song Contest with Vertigo.
The story is based around a lady called Josie and the St. Louis College where she is secretary to the Headmistress (Miss Fiorini) played by Mary Spiteri (Malta 1992 – Little Child).  The drama is then enacted by the students who interpret their emotions through the Maltese songs. 
The main students are played by Christine Haber, Francesco Catania, Jurgen Manicolo, Franklin Calleja, Maxine Pace and Sarah Crystal.
Dejavu is written and directed by Eileen Montesin.  
Below you can see Christine Haber sing To Dream Again (Malta 2003 – Lynn Chircop) and Ylenia Vella singing The One That I Love (Malta 1998 – Chiara).

You may also like to read: