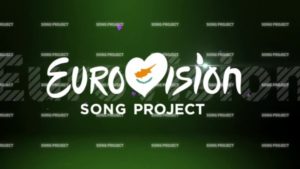 The fourth auditions heat for this year's Cypriot selection, the Eurovision Song Project, took place on Sunday 28th December. Two more hopefuls qualified to the next, EuroChallenge phase of the competition, bringing their number up to fifteen.
The show's judges, Alex Panayi (Cyprus 1995 & 2000), Despoina Olympiou (Cyprus 2013), Elena Patroclou (Cyprus 1991) and radio producer Tasos Tryfonos, were back behind their desk to listen to ten more auditions. The candidates and results were as follows:
 Lucy Sofroniou with Lonely [music/lyrics:
Christian Löwenborg Wahlstrom, Lucy Sofroniou, Niklas Sawström]
Lucy is a 17 year old Londoner who had previously reached the final of a talent search competition by British commercial broadcaster ITV. The young artist gave a rendition of Lisa Andreas' Stronger Every Minute (Cyprus 2004, 5th place) before performing a part of her song, Lonely. Lucy was a promising start to the show and received some encouraging comments from the judges but only got two yesses in the end.
Groove Therapy with #IsThisReal Life [music/lyrics: Groove Therapy]
Eleonora and Athos from five-member dance group Groove Therapy sang a few bars from Lena's Satellite (Germany 2010, 1st place). Eleonora had previously competed on her own in the Eurovision Song Project. The duo went on to sing their lively song, which had some Balcan ethnic references to it, but only received two 'yes' replies.
Nicos Trikkis with Ime Edo (I'm Here) [music/lyrics: Giorgos Synnos]
Nicos chose Michalis Hatzigiannis' Genesis (Cyprus 1998, 11th place) for his rendition of a past Eurovision entry. Ime Edo is a contemporary Greek rock song with – once again – distinct Balcan references. Likeable Nicos nevertheless failed to impress the judges and received a single 'yes' answer.
Minus One with Shine 
[music/lyrics: Giorgos Solonos, Amarina Solonos, Mikeletto François]
Minus One is an experienced five-piece pop/rock group. They gave an interesting rendition of France Gall's Poupée de Cire, Poupée de Son (Luxembourg 1965, 1st place) before singing their entry. Shine is a rock song with a twist through the use of traditional string instrument baglamas. The group gave a strong performance and received very good feedback from the judges as well as an all-clear four yesses. QUALIFIED
Kostas Karaiskos with Rainbow [music/lyrics: Kostas Karaiskos]
Kostas' 'Eurovision classic' choice was Elena Paparizou's My Number One (Greece 2005, 1st place). Londoner Kostas is 35 years old and his self-penned entry is a pop song with 80's references. Rainbow felt quite imposing in parts but Kostas got mixed feedback and four negative responces from the judges.
Nelena Paparisva with Run Run Run
[music/lyrics:
Laurence Hobbs, Alexander
Ridge, Stephanie
Maarschalk, Nelli Eleni Paparisva]
Nelena Paparisva (not to be confused with Elena Paparizou) is another artist coming all the way from the Great British capital as she has been a London dweller for the last four years. The 23 year old forensic scientist sang Loreen's Euphoria (Sweden 2012, 1st place). Run Run Run is a dance number that failed to impress all the judges despite Nelena giving one of the most confident performances of the night.  Nelena only got two yesses and thus failed to qualify to the next round.
Konstantinos Michailoudis with Stand Up [music: Pantelis Melichouris (Akis Melis)/ lyrics: Viky Efstathiou]
Limassol-born Konstantinos chose to give a rendition of Sophia Vossou's Anoixi (Greece 1991, 13th place). Konstantinos gave an energetic presentation of dance song Stand Up but his thick accent and shaky vocal performance was picked up by the judges who did not give any 'yes' responces.
Giannis Karagiannis with One Thing I Should Have Done
[music/lyrics: Mike Connaris]
Giannis Karagiannis comes from Limassol, too. The 20 year old musician has secured a place for a Master's degree in Berkley College of Music. Giannis gave a rendition of the Greek version of Lisa Andreas' Stronger Every Minute (which was created by Giannis' composer, London-based Mike Connaris). One Thing I Should Have Done is an accoustic guitar based ballad featuring parts where Giannis is singing a cappella. The singer got four yesses, swiftly making it to the next round. QUALIFIED
 The Knockouts with Real You
[music: Theodoros Kyriakou/ lyrics: Eleni Savva]
Five-piece group The Knockouts is yet another act from Limassol. The group's lead singer, Eleni Savva, sang Johnny Logan's Hold Me Now (Ireland 1987, 1st place). The youngsters took to the stage to perform their rock song, Real You, which, at some point, featured Eleni singing through a loud hailer. The Knockouts got positive feedback from the judges but, with only two yesses, failed to qualify to the next round.
 Stella Stylianou with Thelo Na Gino Ouranos (I Want To Turn Into The Sky) [music: Stella Stylianou, Andreas Georgallis/ lyrics: Kostis Triggis]
Stella is a primary school music teacher and sang Konstantinos Christophorou's Mono Gia Mas (Cyprus 1996, 9th place) as her 'Eurovision classic' rendition. Thelo Na Gino Ouranos is a ballad with traditional Greek elements, which Stella sang beautifully. Some judges appeared dubious as to whether the overall result was Eurovision Grand Final material and, with a single yes, Stella failled to qualify.
With two more qualifiers, fifteen out of the twenty places of the next,
EuroChallenge
phase have now been filled. The Eurovision Song Project continues this Sunday at 20:05 CET and will be streamed live
here
. 
You may also wish to read:
In my view
The Eurovision Song Project is a no-frills yet satisfactory show. Radiant Antri Karantoni is competent in her role as presenter while little touches in the editting, such as cuts to clips from past Eurovision entries that the judges make references to, work well. What is probably missing so far are signs of entries that could do well in the forthcoming Eurovision Song Contest but, with only part of the songs being sung, this impression will hopefully change in the subsequent phases of the competition.

The opinion expressed in "In my view" are those of the author and are not necessarily the one of EuroVisionary.com.