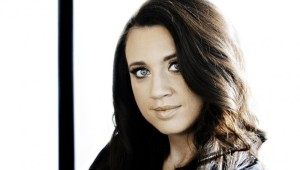 Crime queen and authoress of a long line of best selling thrillers Camilla Läckberg revealed today in Swedish media that her biggest dream is to take part in the Swedish preselection, Melodifestivalen.
Camilla Läckberg is a household name to many outside of her native Sweden, due to her long list of smash hit thrillers which have not only enjoyed huge success in Scandinavia, but have also done very nicely overseas, with her work translated into more than thirty three languages. Her work normally has a sinister dark side to it, but the prolific writer behind novels such as Olycksfågeln (The Gallows Bird), Stenhuggaren (The Stonecutter)and Isprinsessan (The Ice Princess) revealed today that she would love nothing more than to enter a song into Melodifestivalen.
With SVT revealing the host cities for next year's edition of Melodifestivalen yesterday, Läckberg hopes that her name is one of those to be called out as a finalist in either Malmö, Linköping, Gothenburg or Örnsköldsvik. According to reports in the Swedish press, the authoress is one step closer to making her dream a reality after having composed an entry for an extremely well known artist from the schlager world, but whose name remains as yet undisclosed.
Lackberg's press spokesperson, Christina Saliba confirmed to tabloid Expressen that songs had indeed been composed but had yet to be submitted to broadcaster SVT. Judging by the reactions of those around her, the material she has written is reported to be fantastic. This would not be the first time a well respected author takes part in Melodifestivalen, as many surely remember last year's entry from author Björn Ranelid together with Sara Li, Mirakel, which also managed to capture a spot in the final. Never say never – before we know it, Ms Läckberg could very well be hearing those immortal words "Direkt till final" sometime next spring. Fingers crossed that her biggest dream comes true.  
You might also like to read: