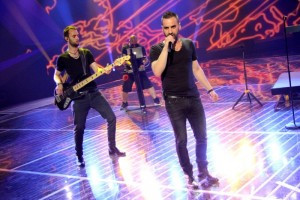 Hungarian representative Compact Disco was the sixth participant rehearsing at the stage today. The boyband had no special chareography or special effects, but still sounded just like it should for this song with rock elements.
Last year Hungary qualified for the final with Kati Wolf for the first time since the 2007 Eurovision Song Contest. After Kati's success, the country has very high hopes at the contest with the boy rock band Compact Disco with their entry Sound of Our Hearts this year. Today, at the day 2, we got a chance to have the first impression of how it will sound.
The group consist by four males, Csaba Walkó, Attila Sándor, Gábor Pál and Behnam Lotfi who also composed their participating entry. A female vocalist is added to their team for the contest in Baku.
With  no special chareography or
special effects what we usually don't expect from a rock band, Compact Disco
gave us what we needed. But differently than usual rock bands at the contest, the group won't be using any pyros at the stage as it looks so far. But they are bringing their keyboard and electronics to the stage, of course.
The first parts of puzzle came together today with the first rehearsal performance. They were dressed a casual black jeans and black t-shirts at the stage. Active signatures of the world and some hearts in pink and blue were shown in background which was another suprise from them; but the pinky atmosphere were a bid over-colourful. Their sound was very well and they were not moving much at the stage; at the last part of their performance the lead singer walked to the far side of the stage and made the finishing.
On what we have seen so far, the group has a good rock attitude but the atmosphere was a bit over-coloured feminine. They may be lost in the performance if they wear something dark in the show. Stay tuned to Eurovisionary for when they rehearse again later this week.