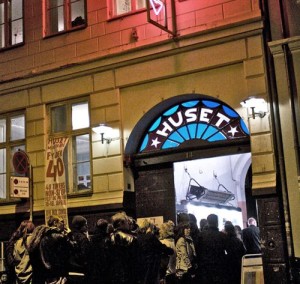 Last year's Euro Fan Café at Moriskan in Malmö saw quite an impressive line up for the chat shows where host Rick Jacobs together with a curious audience got to know some of the entrants a little better. They've excelled themselves this year, with a jam packed chat show line up featuring something for everybody.
Last year we got to see Rick Jacobs in action, with the likes of Birgit Õigemeel, Hannah Mancini and Roberto Bellarossa guesting his inviting sofa. What was billed as a chat show honestly felt more like an intimate evening with friends, where Rick managed to get guests to spill the beans on past experiences, share fun stories and amusing anecdotes on all things Eurovision. More of the same can be expected this year, with a star studded programme revealed today. The chat shows will commence on the 30th of April and at the time of writing will run until the 9th of May. The full programme is as follows:
April 30th, 21:00-22:00 hrs:
Suzy from Portugal will be bringing a bit of glam to the proceedings as she tells Rick of her travels. She will be joined by manband Pollapönk from Iceland who hope to shed a little light on their music philosophy.
May 1st, 21:00-22:00 hrs: 
Hot favourite Aram Mp3 from Armenia will be joined by balkan beauties Hersi from Albania and Tinkara from Slovenia. Comedian Aram Mp3 is a sure thing for a barrel of laughs that evening. Tinkara will give the low down on her Eurovision past and Hersi will hopefully show why she's worth of the title "The Albanian Shakira".
May 2nd, 21:00-22:00 hrs:
Axel Hirsoux from Belgium will be guesting the studio, no doubt telling of the overwhelming experience he had when winning the Belgian final with his song Mother. Joining him will be dancer extraordinaire, the amazing Tanja from Estonia who hopefully will explain how she manages to hold a note while being thrown around stage.
May 3rd, 20:00-22:00 hrs:
Ralph Siegel
, the man who has given us so many Eurovision memories over the years will be joining Rick in a show brimming with the low down, gossip, and live performances of just some of his back catalogue of entries. Fans are able to vote on the 
EFC Facebook page
 as to which of his five entries during the last 40 years will go under the magnifying glass that evening. 
May 5th, 16:00-18:30 hrs:
Swiss hopeful Sebalter will be on the sofa this evening, hopefully not just whistling his way through the show, but giving us the story behind his entry Hunter of Stars. Afterwards, a veritable treat is in store for fans with entrants coming thick and fast: French Twin Twin will be on hand and we'll get to ask TEO from Belarus just how sweet a tooth he has. Romania's Paula Selling & Ovi are hoping for a miracle this time around and will be eager to meet fans at the Euro Fan Café.
May 9th 16:00-17:00 hrs:
Delectable as a danish pastry, fan favourite Kirsten Sigaard will be joining Rick to share just some of the highlights from her lengthy career. With three Eurovision participations to her name as part of Hot Eyes and with musical partner Søren Bundgaard, she'll have plenty to tell. Another highlight will be a concert by Hot Eyes themselves, where hits will be coming thick and fast.   
Euro Fan Café is located in Rådhusstræde 13 and will be open until the 10th of May. Get your Euro Fan Café pass while you can!
You might also like to read: