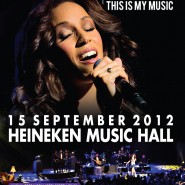 After My Impossible Dream failed to impress at the Eurovision Song Contest in Kiev, Glennis Grace's  career took something of a nosedive. Miracles do happen however, and last year she experienced a formidable comeback. With a new single and album out, plus a sell out concert, the future is looking rosy for Ms Grace.
The Dutch seemingly can't get enough of the soulfull songstress and with good reason – Glennis Grace, former Dutch entrant at the 2005 Eurovision Song Contest with My Impossible Dream has always had what could undoubtedly be described as one of the best voices in the Netherlands. After floundering at Eurovision, the star's career didn't seem to be going anywhere, with most of her singles not even making the top 30 of the charts. But all of that changed suddenly last year, when she released a cover version of a 90's ballad called Afscheid (Goodbyes) which leapt to the top of the chart and stayed on the chart for an impressive 16 weeks, earning her a gold disc. An equally successfull album followed, One Night Only, spending 46 weeks on the charts and acheiveing platinum status.
Any naysayers who may claim that Grace's music career has peaked and that the public has had enough of her should think again. The recent release of her latest album This Is My Voice is proving to be just as popular, making number 2 on the album charts so far. Her brand new single, Ik Ben Niet Van Jou (I Don't Belong To You) is also proving to be a radio favourite. Grace has been busy promoting her album throughout the summer with numerous meet and greet and signing sessions and her hard work has been rewarded with a sellout concert planned for the 15th of September, with the title This Is My Music. The concert will take place at the Heineken Music Hall in Amsterdam, the first time ever she will have performed at the venue, making the show extra special.
The star is thrilled at the reaction, with so many tickets sold out in no time, saying "It really means so much to me that 5,500 people have bought a ticket to see me perform. I can't wait for the 15th to come around, so that I can give an amazing show together with my band and the audience are in for a few surprises!" During the concert, Grace will perform tracks from her platinum selling One Night Only album, as well as from her latest release. Special guests will include saxophonist Candy Dulfer (anyone remember Lily Was Here?) and Edwin Evers. It is also rumoured that Grace will pay tribute to her heroine Whitney Houston during the show.
Those of you who have managed to secure a ticket should feel very lucky indeed, and are guaranteed an  evening of first class vocals and entertainment. The rest of us will just have to hope and pray for a DVD release. Glennis Grace's latest hit, Ik Ben Niet Van Jou can be heard below: