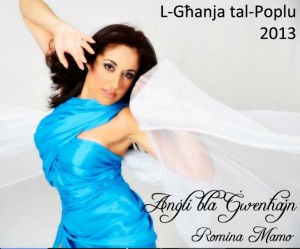 Romina Mamo has been a finalist at the Malta Eurosong on three occasions.  Now she is busier than ever with the release of two new singles (one in English and one in Italian) and also participating in the 2013 L-Għanja Tal-Poplu festival on 20 April.
Romina Mamo is a popular singer in Malta and has appeared and had much success in many festivals both at home such as the Malta Eurosong, Indipendenza Festival and Malta Hit Contest.  She has also had considerable success in festivals abroad such as the Discovery Festival in Bulgaria in 2010, Antalya, Turkey with a version of Sertab Erener's Here I Am with a live orchestra and the La Vela D'Oro festival in Italy.
In 2003 Romina took part in the Malta Eurosong for the first time with the song, Here Today Gone Tomorrow.  In 2005 she was back as part of a trio with Rachel and Neville and We Can Do Better. The in 2012 she returned with DNA.
The start of 2013 has been very busy for Romina with the release of two new singles.  She has released the upbeat dance song Delicious Poison.  This song was originally submitted for Eurovision but unfortunately was not selected but Romina believed in the song and wanted her fans and the public to enjoy this happy and uplifting song.  It is composed by the popular Maltese songwriters Gerard James Borg and Philip Vella.
Romina's second release is sung in the Italian language and is called Chissà perché and is composed by Franco Alberto & Pino Marchese.
You can see Romina perform Delicious Poison and the official video for Chissà perché below.
Romina is also taking part on 20 April in the L-Għanja Tal-Poplu with the song Angli Bla Gwenhajn composed by Heathcliffe Balzan and Deo Grech.  It will be sung in the Maltese language.
You can read more about Romina at her official website. 

You may also like to read: