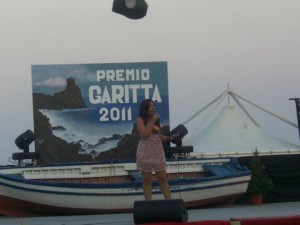 Romina Mamo participated in the 2003 and 2005 Malta Song For Europe contests.  She has had much success at festivals in Malta and abroad.  Now Romina has won the Pop Star Talent festival in Sicily, Italy.

Romina sang Here Today Gone Tomorrow in the 2003 Malta Song For Europe.  In 2005 she was back as part of a trio with Rachel & Neville with We Can Do Better.
She has had great success in Malta at festivals L-Ghanja tal-Poplu, The International TV Song Festival and Konkors Kanzunetta
Indipendenza and Malta Hit Contest.
Romina has also successfully competed in many festivals abroad in countries such as Italy, Bulgaria, Turkey and Spain.
At the Pop Star Talent festival, Romina performed I Could Have Danced All Night from My Fair Lady and I Dreamed A Dream from Les Miserables.  There will be an album released for the festival where Romina will sing an original song called Enigma composed by Carm Fenech.  Special guests at the festival included Luca Madonia who finished 5th in the last edition of San Remo festival.
You can see Romina singing Poison Ivy, the winning song at the Malta Hit Contest in 2010.