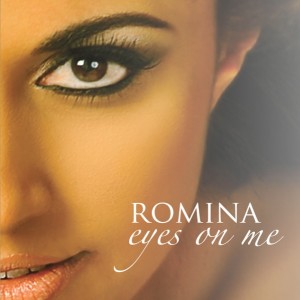 Romina Mamo took part in the 2003 and 2005 Malta Song For Europe competitions.  Now she has released her debut album, Eyes On Me, with songs from various composers including Eurovision writers Gerard James Borg and Philip Vella.
Romina has been successful in many festivals in Malta and abroad.  Her song in the 2003 Malta Song For Europe was Here Today Gone Tomorrow and she was back in 2005 performing with Neville & Rachel the song, We Can Do Better.  She has had great success in the Festival Indipendenza and the Malta Hit Song Contest where she won first prize from the public with the song, Primitive.  She has also won prizes in Spain, Turkey and Bulgaria.
Her album consists of 16 songs with songs in English, Italian and Maltese.  The composers of the songs from Malta are Gerard James Borg and Philip Vella and also Clinton Paul, Deo Grech, Rita Pace and Paul Abela.  There are also foreign composers Figen Cakmak, Fani Hodara and Francesco Bonagura.
The executive producer is Robert Cefai, former Head Of Delegation for Malta at the Eurovision Song Contest.  The album publisher is Manfred Holz from Cap Sounds and it was mastered in Germany.  The songs were recorded at studios in Malta and Turkey.
You can read more about Romina at her new website and the album is for sale at various download platforms as i-Tunes and Amazon.
You can see Romina perform the title track, Eyes On Me, below.