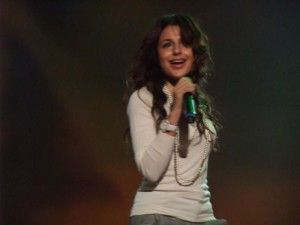 After a long speculating period in Armenia, ARM TV has confirmed its participation in a rival country, Azerbaijan. The details of the act will be announced at the end of January. Rumours suggest that the Lucia Moon and 2008 representative Sirusho will represent the country.
The two ex-Soviet countries Armenia and Azerbaijan don't have a good historical background though these countries are geographically neighbours. This situation resulted with some chaotic declartions coming up from both countries in the summer  which threatened to end with Armenia's withdrawal from the Eurovision Song Contest. When the European Broadcasting Union revealed the list of participating countries at the Eurovision Song Contest in Baku this year, it confirmed that Armenia will be represented in Baku.
After this clarification, national broadcaster ARM Tv started the preparations for Baku. The procedure of selections is yet to be decided, said Gohar Gasparyan – the head of Armenian delegation. There is still an open door for the Armenian decision for Baku between internal selection and national final.
On the other hand, the rumours went to the way of internal selections where 2008 representative Sirusho was rumoured to have been chosen to represent their country in Baku. Sirusho, who has already got a respectable 4th placing from 2008, replied to these rumours declaring her admiration, gratitude, faith, love and devotion, especially to the fans in Armenia who are honouring her as a presenter, but she doesn't have any plan for Baku as there was already a single released this autumn.
Later, the famous 'diaspora' of Armenia took the initiative and made known their preferences. A group of Armenian diaspora in The Netherlands, Dear Angels, started a campaign to select a famous name for Baku, Babayants Lucina (Lucia Moon) who is living in the United States. Lucia is also well known to be born in Karabakh where Armenia is accused of committing genocide to the Azeri population. Dear Angels also stated, "Today, Armenia's participation in the festival is under discussion,
yet the desire to see Armenia in Baku is supported by various segments
of local society". Meanwhile, Lucia has also expressed her feelings to the media, and said she would feel grateful if she could represent Armenia in the Eurovision Song Contest someday.
Last year, Armenia failed to qualify for the final at the Eurovision Song Contest for the first time in history. Their representative Emmy, came 12th in the first semi-final with the song Boom Boom. You can hear the song below: