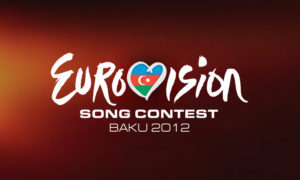 The EBU has announced that a total of 43 countries will participate in the 2012 Eurovision Song Contest to be held in Baku the next 22, 24 and 26 of May. It confirms the participation of Armenia, the return of Montenegro after three years of absence and the withdrawal of Poland.
The high number of entries repeats the record set in 2008 and 2011 editions. Jon Ola Sand, executive producer of the Eurovision Song Contest for the EBU, said that it is a joy to see, once again, more than 40 countries taking part of this big event.
The 43 countries and their respective broadcasters are:
•    Albania (RTVSH)
•    Armenia (AMPTV)
•    Austria (ORF)
•    Azerbaijan (Ictimai TV) (Host Broadcaster)
•    Belarus (BTRC)
•    Belgium (VRT)
•    Bosnia & Herzegovina (BHRT)
•    Bulgaria (BNT)
•    Croatia (HRT)
•    Cyprus (CyBC)
•    Denmark (DR)
•    Estonia (ERR)
•    Finland (YLE)
•    France (France TV)
•    FYR Macedonia (MKRTV)
•    Georgia (GTVR)
•    Germany (NDR/ARD)
•    Greece (ERT)
•    Hungary (MTV)
•    Iceland (RÚV)
•    Ireland (RTÉ)
•    Israel (IBA)
•    Italy (RAI)
•    Latvia (LTV)
•    Lithuania (LRT)
•    Malta (PBS)
•    Moldova (TRM)
•    Montenegro (RTCG)
•    The Netherlands (TROS)
•    Norway (NRK)
•    Portugal (RTP)
•    Romania (TVR)
•    Russia (RTR)
•    San Marino (SMRTV)
•    Serbia (RTS)
•    Slovakia (RTSV)
•    Slovenia (RTVSLO)
•    Spain (RTVS)
•    Sweden (SVT)
•    Switzerland (SRG/SSR)
•    Turkey (TRT)
•    Ukraine (NTU)
•    United Kingdom (BBC)
A total of 37 countries will participate in the two semifinals. The draw to determine which countries act in each one will be held on January 25 in Baku, during the Host City Insignia Exchange.
From each of these, ten will proceed to the final adding to the Big-Five countries (France, Germany, Italy, Spain and United Kingdom) and the host country, Azerbaijan. The draw to determine the order of performance in each semifinal will be held in March during the traditional meeting of heads of delegation in Baku.