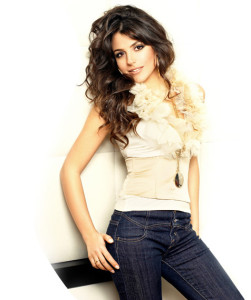 Sirusho, who represented Armenia at the 2008 Eurovision Song Contest, has released a brand new single in English and it is called, I Like It.  She will shortly release a promotional video for this upbeat dance song.  I Like It is available now on iTunes.
Sirusho took 4th place for Armenia in the Eurovision Song Contest in in Belgrade in 2008 with Qele Qele. The song is now an established Eurovision classic.
She comes from an accomplished musical family in Armenia.  Her father is a well know actor and director and her mother is a respected singer in her homeland.
Now Sirusho is one of the biggest recording artists and personality in Armenia, Russia and many other countries.  She released her first album at 13 years old with the self titled, Sirusho.  Her next album was a collection of Armenian folk gusan songs.  The album was voted the best of the year in 2005 at the Armenian National Music Awards.  In 2007 she released her 3rd album, Hima, and this was also nominated for many awards.  Her most recent album was released in 2010 and titled Havatum Em.
Sirusho has made extensive tours around the world with concerts and promotion.  Now comes the launch of her new single, I Like It.  You can see a video made by fans for the song below.  Keep watching here for the official video coming soon.