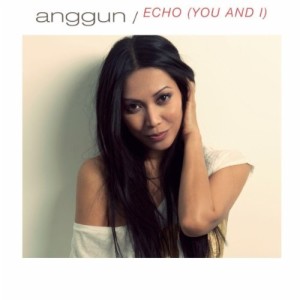 The French entry for the Eurovision Song Contest in Baku has now become available as a CD single with 4 tracks. That is on a market where CD singles is becoming rare and difficult to find and as such Echo (You & I) is an exception. 
It's definitivly a big promotion that France gives this year for Anggun, who will represent the country at this year's Eurovision Song Contest. It is the first time in years that a French artist has had the opportunity to fly from country to country; she has already promoted her single in Malta, Ukraine, Latvia, Lithuania, Russia, Bulgaria and Portugal. She has also given lots of interviews and been appearing in various TV-Shows in France.
Recently she made a duet of Echo (You & I) for the Hungarian market with Varga Viktor Visszhang and another one for the Danish market with Niels Brinck, who represented Denmark in the 2009 Eurovision Song Contest ending 13th in the final with the Ronan Keating written song Believe Again.
Now, her CD single is available more than one month before the contest. The CD Single including 4 tracks is available in a card sleeve format. The songs are :
Echo (You & I) (Eurovision Version)
Echo (You & I) (English Version)
Echo (You & I) (Anton Wick Remix)
Mon Meilleur Amour (Single Edit)
As people can see then this CD single also includes a full English version, where as the version for the Eurovision Song Contest will be a mix of French and English.