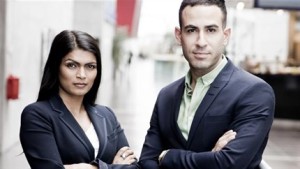 Today DR revealed that it will be its own two hosts, Abdel Aziz Mahmoud and Ulla Essendrop who will function as moderators of the press conferences during the 2014 Eurovision Song Contest. In less than three weeks the first rehearsals kicks off. 
It is two very experienced DR employes who has been chosen as hosts, the socalled moderators, of the press conferences during the Eurovision Song Contest – and they are both very happy to have been given the task and are looking forward to it.
To DR's Eurovison site Abdel Aziz Mahmoud says: "I think it will be the biggest and longest lasting party, I've ever been a part of". He adds that this show is about showing off all the great things about Denmark, something we will also see during the press conferences where Denmark's freedom of speech will be shown. There are no limitations to what you can ask and talk about.
Ulla Essendrop currently hosting sports news says to this though that the good tone is important: "It is about making it clear from the start that we should keep a good tone and that we are here for the party, and to have a great time together – and that we can do that despite of where we are from". She adds: "Just like you are trying to keep sport and politics seperate, I don't think it will be a big problem here either".
Back in January, Ulla co-hosted the delegation meeting. At that time together with Tine Gøtzsche. 
More than 80 press conferences are announced for the Eurovision Song Contest that will be attended by 1500-2000 journalists from all over the world. It all kicks off on the 28th of April at 10:00 in the morning will have its first rehearsal, which will be followed by a press meet and greet.
You might also like to read:
Prepare for Eurovision – Follow our language course: