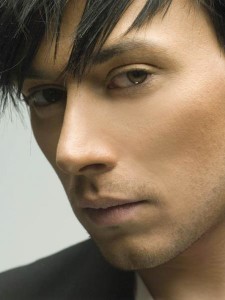 A lot will be expected of Ruslan Alehno after Belarus' first top ten finish in 2007. He kindly took a few minutes to answer some questions for us and tell us how he feels about it all.
Can you take this chance to introduce yourself to our readers in your own words?
Well, firstly I have to say, that I am very glad, that because of Eurovision I have chance to communicate with people all over the Europe, so, nice to meet you, I am Ruslan Alehno from Belarus and I'm gonna sing Hasta la Vista song at ESC 2008 in Belgrade!
From the songs that you competed against in Eurofest, apart from your own which was your favourite?
I think that all the finalist of Eurofest performed very good during the concert and all of us had completely different songs. So, I think everyone had chance to be the winner. I am glad that it happened exactly with me!
How would you describe you song, 'Hasta la vista? Well, it's a life story, that everyone can understand. Because I think every of us once in life felt that sometimes even if our feelings says something different we anyway have to say Hasta la vista! But in the same time I want to express, that one unhappy story doesn't mean that love is gone forever.
What have you planned for your stage show in Belgrade?
For now I only can say that everything that will happen will be in harmony with my song. I think, that stage performance will add even more passion and energy to the whole composition.
How does it feel to have to fill the shoes of Dmitry Koldun and have the expectations of Belarus on you?
Actually I have my own shoes, so no need to ask Koldun to let me try his :). But if seriously I feel happy to represent my country on such a great contest as Eurovision.
Do you think that Belarus can win the Eurovision Song Contest?
I think that Belarus prepares to Eurovision very carefully from year to year and my Belarussian team works hardly at all our preparations. So, we will know everything in the end of May.
Who do you think is your biggest competition in this year's contest?
I don't think about that. I am focused at work, I am getting lots of positive emotions from all that and I am sure that every singer who will perform in Belgrade works to do his best.
What's your favourite Eurovision song?
As Eurovision has a long history it revealed to the world of music lots of great hits. Its enough to remind ABBA or Teach-in, or from last years Ruslana, Helena Paparizou or the winner of ESC 2007 – Marija Serifovic.
Do you have any messages for our readers?
According to this nice opportunity I'd like to wish to all of you lots of joy, lots of positive and of course, lots of love around you! See you in Belgrade!