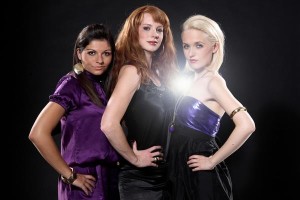 With all six acts now known for the new format British national final, we have caught up with one of the two girl-groups.  We would like to thank the band 'The Revelations' for taking the time out to answer some questions for us.  
Would you like to start by telling us about yourselves and how you joined up?
We are Louise Masters, Annika Magnberg, and Sarah Vitorino. We have been The Revelations for just over 3 years. We met through an advert in NME as we were all interested in the sound of the 60's!
How would you describe your song 'It's you'?
'Its You' is a up-beat Motown inspired bubbly Pop song. Lyrically, its a conversation between three girls, one of whom has found the man she loves but is worried he won't feel the same way, the other girls are trying to re-assure her it will all be ok.
Who, or what, are your musical influences and how would you describe your sound?
We are all huge music fans and have such a broad taste of music. Sarah is our Pop queen, Annika is our Jazz Queen, I (Louise) love alot of old music such as Joni Mitchell, Steely Dan, Fleetwood Mac, but of cause we all love The Supremes, The Ronettes, and pretty much everything that came out of the 60's! It was such a good era for music. We descibe our sound as Modern Motown.
Have you any qualms about entering the Eurovision Song Contest given it's reputation in Britain?
We did at first until we met the BBC and they told us how this year they wanted to make the competition much more credible. Whatever has happened in the Eurovision the past, we're all still big Eurovision fans, as its always entertaining! So we really hope we do make The Eurovision more credible in the publics eyes.
Annika is Swedish, where they take the ESC very seriously, how will her family feel about her representing a foreign country?
As the Eurovision is huge in Sweeden, and they use their biggest stars perform in it, her family are so proud and over-whelmed with excitment. Her parents are coming over to London to watch the show, so it will be the first time Me and Sarah have ever met them! We'll have to thank them for making the perfect third of our band!
Have you planned a stage act for the competition?
The Revelations isn't about a 'stage act', its about great music and live singing! We're not into the 'gimick' acts of the past, its a song contest, so it just needs to be a good song. We'll have our fabulous band playing on stage with us as thats what we're all about.
Do you know much about your rivals 'LoveShy'? And do you think that the new head to head format is a good idea?
I don't know much about Loveshy, but from what i've heard they sound quite different from us, so it'll be down to whatever the judges/viewers musical tastes are. I should imagine the new 'head to head' format is to make the show more entertaining for the viewers, whatever the format is, one act has to win!
What are your promotional plans if you win the competition?
To have lots of promotion I suppose! Heavens knows, everything we do has to be one step at a time.
Do you have any messages for the readers of Eurovisionary. com?
yes. Hello, hope you really enjoy listening to our song. If you do, please vote for us!
What question, which I haven't asked you, would you like to ask yourself and what would your answer be?
ermmm…. how do you feel about being entered into the show? answer – very proud and excited.