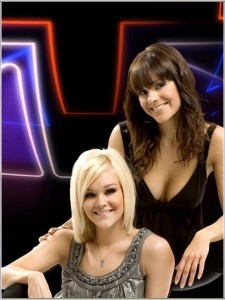 In our continued coverage of the UK national final we caught up with 'LoveShy' to find out about their upcoming participation in 'Eurovision – Your Decision'.  We would like to thank the girls for taking time to answer our questions and we wish them luck in the contest.
To start, could you tell us about yourselves and how the group was formed?
Loveshy started in 2007 after we decided to start a fresh from our previous band CLEA of four years, which came to an end when band member Lynsey Brown left. We met on ITV popstars the rivals and were in the final 10 running for a place in Girls aloud. We have been recording our Loveshy album having signed to dance label 'all around the world'. We are extremely excited to launch LoveShy in the UK after having toured in Europe and East Asia over the past two years. It's wicked to finally come back to the UK and possibly have the chance of representing us in The Eurovision, it would be such a honour!!
How would you describe your song 'Mr. Gorgeous'?
Mr Gorgeous is a sultry, electro pop, song, that will get you off ya feet and dancing to the beat!..
Its about a guy who you just want to be with night and day. It's that feeling of being completely in to someone, and craving their attention all the time.. We think a lot of people can relate to this!..
Who, or what, are your musical influences and how would you describe your sound?
Our Loveshy sound is a dance pop vibe with alot of sultry tones and energetic melodies that will keep ya dancing till ya legs turn to jelly!!! We have so many musical influences that range from, Gwen stefani, Sugababes, Britney Spears, to the Spice Girls and Take That (who are still producing great pop records!)
Do you think that the Eurovision could harm your career if you won 'Eurovision – Your Decision'?
We only see winning the Eurovision – Your Decision as a positive!.. this means we get to represent our country in the worlds biggest singing competition, not only getting our song heard in the uk but the whole of Europe too. This is a great launch for loveshy and we have got some killer songs to follow Mr Gorgeous so happy days!!
Have you planned a stage act for the competition?
We have planned a great stage show for the night of Eurovision Your Decision.. we want to enter that stage with a bang and give it everything we've got! A performance that the UK public can enjoy watching and hopefully vote for!.
Do you know much about your rivals 'The Revelations'?  And do you think that the new head to head format is a good idea?
It's definitely something new and we think its good to make a change in the show and do something different.. We don't know much about other girl band and haven't met them yet, but it will be fun and were looking forward to the show..
Do you plan to promote your song throughout Europe if you win the competition?
Hell yeah!.. It will be amazing and we will definitely want to promote our music all over Europe.
Do you have any messages for the readers of Eurovisionary.com?
It's great to be one of your 6 acts going for Eurovision this year!.. It will be amazing to have all of your support on the night, we hope we can be the act that you want to fly the flag high and proud this year at eurovision 2008!..
What question, which I haven't asked you, would you like to ask yourself and what would your answer be?
'How can we find out more about Loveshy and what you have planned for the future?'
Come visit our myspace page at.. www.myspace.com/loveshyofficial  where you can check out what were up to, hear our music, and read our Blogs!.. also find out all information about up and coming shows and what we'll have planned for 2008..
Thanks for interview love Aimee and Emma x
Links