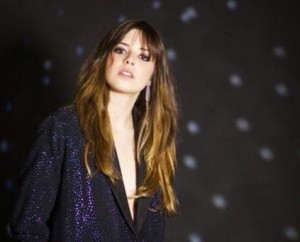 One month before the Eurovision Song Contest 2015, the represantative of Portugal Leonor Andrade talks to EuroVisionary about her win in Festival de Cancao, her participation in The Voice of Portugal and her plans for the stage presentation of Ha Um Mar Que Nos Separa in Vienna.
Leonor Andrade is busy in the studio these days recording the English version of her song Ha Um Mar Que Nos Separa. She was the big winner of Festival de Cancao 2015, which gave her the right to represent Portugal in the upcoming Eurovision Song Contest. We talked to her in between preparations for the contest in Vienna.
You previously participated in The Voice of Portugal. Why did you decide to also try Festival de Cancao 2015?

All happened with an invitation from by the song writer, Miguel Gameiro. I was not expecting it, but I promptly accepted. It is a great honor to perform one of Miguel's songs and to represent my country, Portugal. 
For those of our readers who doesn't understand Portugese, can you tell us what it is about?  
This song, in this context, Há Um Mar Que Nos Separa (if there is a sea that separates us), the sea is a metaphor for distance, that distance can be emotional or physical. When I sing this song, I always remember all the ones that needed to leave the country searching for a better life, leaving their loved ones, their family, and so on. But the major meaning of the message is hope, If there is a sea that separates us, I will dry it with "Saudade". 
This year Portugal is one of few countries who will perform in their native language. Do you think it might be an advantage for you? 
I do not know if it will be an advantage or not, but Portuguese is a very beautiful and musical language and I think that if I will represent my country it makes sense that I sing in the native spoken language. 
What can you do to make your song stand out on stage and bring it into the final?  
I will sing the song like if I were doing it for my family and friends. Many people that love Eurovision, love music, it is a huge honor to perform for the people that share the same passion that I have. I do not know if I am going to the final, that depends on votes, but for sure I am going to have fun and meet a lot of new people and grow as an artist. 
Have you had a chance to listen to hear any of the other songs, and if so, do you have any favourites?  
I heard all the songs, but I do not have a favorite song, but I liked a few songs, for example Spain, Italy, Slovenia, Ireland, Greece, Germany and a few more. 
Which question that I didn't ask you would you like to ask yourself, and what will the answer to it be? 
Well, maybe I would ask if I think that people will enjoy the Portuguese entry?
The answer that I feel is Yes, I think they will dance and feel in space and my quote is: When you listen to Há Um Mar Que Nos Separa… just unite yourselves.
One Love.. Big kiss..
Portugal has participated in the Eurovision Song Contest 47 times since its debut in the 1964 contest. Since then, they have missed only four contests. Portugal has never won the contest, and holds the record for most appearances in the contest without a win. Their best finish was at the 1996 contest, when Lúcia Moniz came sixth with the song O Meu Coração Não Tem Cor. As such, Portugal never finished in the top five of any contest.
Since semi-finals were introduced in 2004, Portugal has failed to reach the final seven times, including from 2004 to 2007. The country did reach the final from 2008 to 2010 either.
Leonor Andrade will sing for Portugal at the second semi-final of the Eurovision Song Contest 2015 her song Ha Um Mar Que Nos Separa on the 21st of May from the 7th starting position. Below you can watch her performance from the final of Festival De Cancao 2015. EuroVisionary would like to thank her and wish her the best of luck.