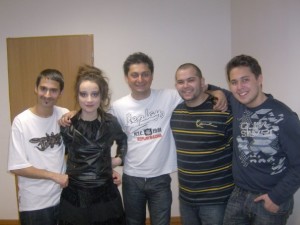 Czech representatives in Moscow, Gypsy.cz were guests at the Slovakian national final. While they were there, they took time to speak to Eurovisionary's guest correspondents, John Stanton and Ian Fowell. They interviewed lead singer and Romany rapper, Radoslav 'Gipsy' Banga.
So Gipsy could you tell us how long Gipsy.cz have been together?
We have been together several years.  Gipsy.cz do not want to be categorised in one particular type of music but we mix fusions of rap, Romany music, funk and pop.
How did you get involved with the Eurovision this year?
Gipsy.cz took part in the Czech national selections in 2007 (Muloland) and 2008 (Benga Beating).  Czech TV thought we would be a good choice for the contest this year.
You have 2 songs in contention for Moscow?
Yes, the Czech public will vote and decide whether Aven Romale or Do You Wanna will be sent to Moscow.
You are only singing one of the songs here at the Slovak final? 
Yes, we are performing Ave Romale.
Ave Romale is a fun song, can you tell us how you will perform this on stage tonight?
Well, I am Super Gipsy!!  I will be wearing a cape and having fun.  Our female violinist gives a great show.  She almost pokes out my eye with the instrument and then pushes me aside.  She takes no messing!  She is always beating me up.  It is a fun performance though.
Do you have any plans to promote the Eurovision entry outside Czech Republic?
We may do. We are here tonight in Slovakia.  We will look at what is possible over the next few weeks. Maybe, we will come to London too.
Have you toured in other countries?
Yes, we have been to lots of countries including UK, Belgium and South Korea.  In April we are going to Mexico.  Gipsy.cz have even recorded something in the Korean language which was a big challenge but we enjoyed it.
What music influences do you have?
Many types of music including rap, Romany, R & B and some rock like Led Zeppelin and Queen.  We are even influenced by classical composers such as Mahler.
So thank you and good luck to all of Gipsy.cz in Moscow.
Links