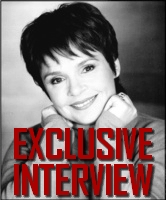 Dana took some time on Saturday evening at the Irish national final to talk to us and answer a few important questions.  She was concerned about Eurovision's future "I think that the integrity of Eurovision needs to be protected".
What did you think of the songs tonight, were you impressed?
Well, I'm just relieved that we have a proper contest and the songs are fitted to artists that are suited to sing them.  That's not a reflection on the other artists we've had, I think Dervish, last year, had a terrible, difficult situation where they were singing songs that weren't in their rhythm.  But I think that they're good songs, I don't know that we have a Eurovision winner, but some of them were good songs and they were well sung
Would you ever think about entering again, now that you're back singing?
No, I don't think so, no.  I think there's a time for Eurovision and it's nice to see young talent coming up.  I've had that opportunity.
So, do you have any messages for EuroVisionary.com readers?
I would say that Eurovision is so special, it's a song contest, it's a social event, it's now an international networks of people and I think that the integrity of Eurovision needs to be protected.  I don't think we should make a mockery of it, we can have fun but I don't think that we should make a mockery of it