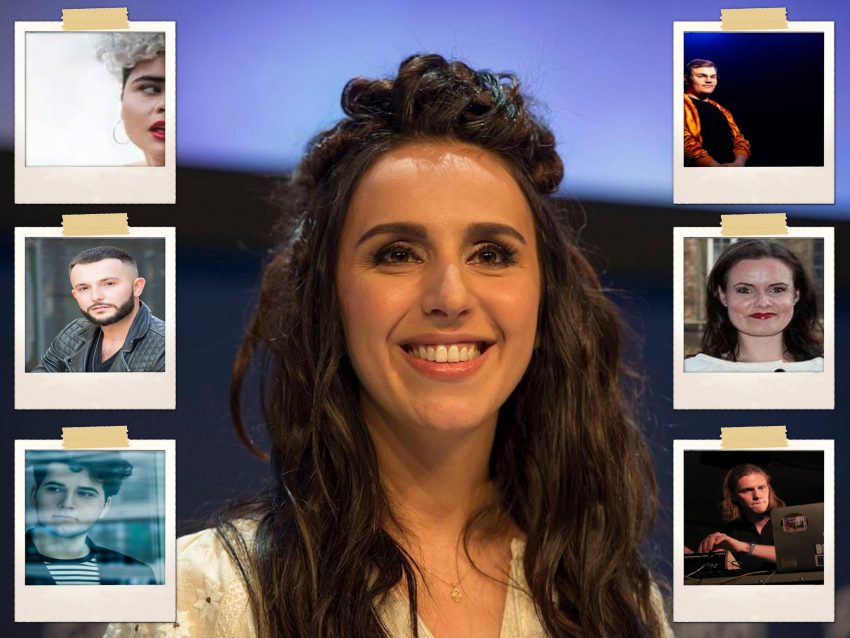 One of the few good things about being under isolation because of the coronavirus lockdown is the amount of content from performers giving on-line shows.  The second edition of Eurovision Home Concerts took place tonight.
Seven Eurovision acts gave performances of their Eurovision song, and as an added bonus showcased a past Eurovision favourite. This week featured five of this year's hopefuls as well as past gems from Denmark and Ukraine.
Gjon's Tears
Gjon's Tears should have represented Switzerland this year with Repondez Moi? He will be back in 2021. With a hairdo that clearly showed that he'd been isolating for awhile. Gjon presented a pitch perfect version of his highly fancied song. During the performance you could only see his head, so it was hard to tell if he was performing in his bedroom or a living room. Wherever it was, it was the perfect setting for the song.
Gjon was given the choice of Switzerland's two past winners, Refrain by Lys Assia, and went for Celine Dion's Ne Partez Pas Sans Moi. He has proven in prior videos that this is one of his favourites, but showed this is a song that needs blasted out by a female diva.
Jamala
The only winner to perform tonight was Jamala who won in 2016 for Ukraine with the song 1944. Jamala sent a message hoping every one is safe and well. We were told that Jamala continued to release music after her win, so go on challenge yourself, see how many you can name. Jamala of course gave a perfect rendition of the song 1944 tonight, in her living room with her winning trophy on display. Groups of musician's appeared on different screens accompanying her.
Jamala's choice was a selection of past winners, and Duncan's winner for The Netherlands from last year, Arcade was chosen. She too would have won had this been her entry. Jamala did the song justice, accompanied by a piano player and a guitarist. She wore a hat. Jamala has a nice selection of soul classic vinyls in her living room.
Aksel
Aksel should have represented Finland this year with his song Looking Back.  Tonight he performed the song in a room which saw several violins hanging on a wooden wall. He had two musicians – a fiddler and a guitarist joining him tonight. A large carpet sported an unplayed piano, set in a room like an old country lodge.
Aksel had the choice of singing Da Da Dum, Finland's 2011 entry from Paradise Oscar, but instead was landed with the over used Fairytale, the 2009 Norwegian winner By Alexander Rybak. His violionist started the song off and Aksel did fine, but viewers need to stop voting just to hear past winners. Paradise Oscar's song would have been perfect here.
Vasil
Vasil should have represented North Macedonia this year with You. Sitting on  a carpet on a wooden floor, Vasil told us what Eurovision meant to him, finishing with the horror statement that we don't know when we will get out of this. Vasil was a backing singer at last years Eurovision. He continued to sit on the floor during a slow rendition of his dance pop number. Abu, the monkey from Aladdin sat on the bed behind him, keeping very quiet.
Vasil's choices were Greece's 2005 winner My Number One and Israel's 2018 Toy by Netta. Apparently the songs tied so he decided to give us a unique version of both songs. No music accompanied him, and lets say its was as good as anyone singing in the shower.
Leonora
Leonora represented Denmark in 2019 with the song Love Is Forever. The announcer told us that singing was not Leonora's only talent as she was also an expert skater. Wearing her signature beanie hat, it was questionable if she's keeping the required distance apart from her backing band. Leonora sat on a, was it an IKEA table strumming her guitar, another one of her talents. An xylophone added to the joy, as it turns out played by a family member. She is forgiven, she doesn't need to isolate from them.
Leonora's cover version was Satellite, Germany's 2010 winner by Lena, and let's face it, had she performed it like Leonora did tonight at the piano, there would have been a different winner back then. Leonora removed her hat so perhaps that was the reason for the lacklustre performance. Oh well, never mind, it was at least nice to see her again.
Montaigne
Montaigne should have represented Australia this year with Don't Break Me. She will be back to represent Australia in 2021 with a new song. Her latest album, Complex is out now. Montaigne sat at a table, or a piano. or a shelf and gave a wonderful performance of Don't Break Me, dressed in a pink blouse, with yellow flowers in her green hair. The isolation has obviously prevented her going out to get some new hair dye.
As we can't get enough of Repondez Moi, tonight, Montaigne was made to sing it again, after Italy's Fai Rumore, lost out. Montaigne accompanied herself on the guitar and proved this is a song that perhaps cannot be ruined. She did well but perhaps she should not have been on in a week where Gjon's Tears also appeared. They should have kept her for next week.
Daði Freyr
Daði should have represented Iceland this year with Think About Things. It is unlikely he will be back in 2021. We were told that Daði obsesses about the lyrics of the songs he sings. He'll really be obsessing about his cover version song then. First though, Daði was stuck in a room with all his instruments, while his family members added backing vocals from another room and computer screen.
There were two choices that Daði could have sung, Ding A Dong by Teach-In, The Netherlands 1975 winner, or Lipstick by Jedward, Ireland's classic from 2011. Daði gave it a good go, adding his own personality to the song, but without the cheeky twins and their bouncy dancing, this version was a bit flat.
Eurovision Home Concerts
Coronavirus and it's COVID-19 disease is affecting most of the world at the moment. On the 18th of March came the news that the 2020 contest was cancelled.
The EBU came up with the idea of Eurovision Home Concerts where artists, 2020 acts as well as former participants, will perform their own entry plus a cover song – from their own homes. Just like the rest of us, they are isolated too.
Keep an eye on Eurovision Song Contest on Twitter where they will announce artists for next edition, and as well as asking you to vote for which other entry you would like them to cover.
In the video below, you can watch the second edition of Eurovision Home Concerts: