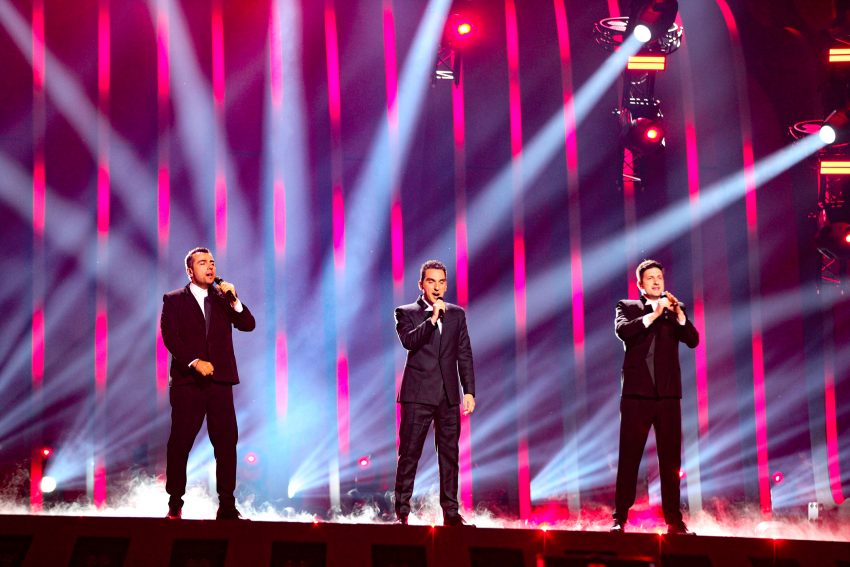 Ethno-Jazz Band Iriao brought a different type of song in 2018 to the Eurovision Song Contest in Lisbon, Portugal. Some may say this Georgian song is boring or old-fashioned, but it's definitely different from the other entries.

Iriao were chosen internally to represent Georgia at Eurovision Song Contest 2018 in Lisbon. That is a method that was used very often by this Caucasian country. Georgia is also known for sending unusual songs, especially when it comes to musical genres. For You (in Georgian Sheni gulistvis) by Ethno-Jazz Band Iriao is another great example of such experimenting at Eurovision. What is also unusual is the title of the song. For international purposes, the title was used in English at Eurovision, even though the song is sung completely in Georgian. It's also the first song ever from Georgia at Eurovision that doesn't contain phrases in other languages than Georgian.
Leader of Band Iriao, David Malazonia, is one of the two composers behind this song based on vocal harmonies. Iriao were not one of the favourites to qualify from the second semifinal in Lisbon and it proved to be right when Georgia finished on last place receiving only 24 points. Even though this type of songs may be more jury-friendly, only 11 points came from the jury while the other 13 came surprisingly from the televoting.
For You – opinions from fans
In order to find out what Eurovision fans today think of this Georgian entry from 2018, we asked our Eurovision Fan Panel. It includes team members as well as fans from all over the world.
Charlotte J. – It's strange how fast one can forget a song. Just two years later, I had already forgotten this one. Listening to it again, I realise why… While I do like the vocals, the song unfortunately is too boring, and I am about to fall asleep. Sorry Georgia.
Josef Š. – As I love to sing in a choir, I usually love those entries based on a polyphonic singing and multiple harmonies. Therefore it is not surprising to see this as one of my favourite entries from Lisbon. I love the ethno vibes and combination of Iriao's male voices. I know it may sound a little bit boring, but I would say, that being different paid out this time and I just love it. Thumbs up for the courage, Georgia!
Alvaro S. – This was a really beautiful song. Although not as good as Il Volo for me, the Georgian tenors from Ethno-Jazz Band Iriao deserved a place in the final in my opinion. The sound of the song is so calmed and the harmonies of the voices of the three main singers are touching and powerful. I totally love them.
Erman Ö. – I don't like this song. It's old-fashioned. You can join Eurovision with a ballad, but the audience must say wow, wonderful voice, wonderful screen or good presentation. This song has none of this. It is boring. Georgia has good singers and songs at Eurovision and started good at their Eurovision history, but they lost their own enthusiasm.
Alberte B. – I understand why some people are upset that it didn't qualify. It's definitely not a low-quality entry, and you can feel the passion and talent that radiates from the singers. But it's not for me. I think there was too much going on with the melody and the harmonies, and the voices didn't always fit together in my opinion. It's not a song on par with my taste, but I see why it's on par with somebody else's.
Christopher D. – I usually like these kind of ethnic songs but this one was too bland so much so that I do not even recall it from two years ago. Compared to other ethnic songs that were presented at Eurovision, Georgia 2018 is one of my least favourites and was not surprised that it missed the finals that year.
Alexander S. – In 2018 Georgia sent to Eurovision a male group called Iriao. This ethno- jazz band did not catch my attention. In my view, it's a bit boring, nevertheless we must point out that no matter what kind of music style Georgia sends to Eurovision they aren't getting good results in general.
Michael O. – The harmonies were quite good in this song, but did it ever really stand a chance of qualifying? Well done Georgia for trying something different but it doesn't always translate to being wonderful.
Ashleigh K. – The problem with this song is that as nice as it is it took too long for it to go anywhere. It seems that after a minute and a half into the song that it was going to kick in but then it dropped again. By the time it came I was bored. It's a pity, I loved Il Volo and this could have done well like their entry did but the song was too flat.
Gunec G. – I've always been a fan of Georgia's entries. Especially it was so disappointing to me when they failed to make it to the grand final in 2017. However, I've found their entry in 2018 very week. Iriao might be a very classy jazz group. But For You was too plain and weak for Eurovision, sorry.
Linete A. – I love the song with this Il Divo like team of singers. They sang in beautiful harmony and I love their voices. The song was a bit slow but had a great ending. Very underrated in my opinion. Great feeling with minimalist staging and great voices singing in their own native language. To me that's what Eurovision should be all about.
Enjoy Iriao's performance from the 2018 Eurovision Song Contest in the embedded video. Below the video, you can read more about them.
Iriao – a mini biography
Ethno-Jazz Band Iriao is a vocal group based on vocal harmonies, Georgian polyphonic singing and jazz. The group was founded in 2013 in Tbilisi and has been active since then. The leader is David Malazonia who is also behind the musical arrangements for the band and he is one of the composers who introduced this unusual music style in Georgia.
The group has seven members, but for Eurovision, they had to go only in a group of six. Their main focus is on ethno folk and the name "Iriao" comes from a Georgian phrase "Iriao-uruao", which is connected to the yodelling "Krimanchuli" in the Georgian polyphonic music.
In 2014, Iriao performed at Borneo Jazz Festival in Malaysia and also took part in other events all over the world. From those we can mention Java Jazz Festival in Indonesia, Alfa Jazz Festival in Ukraine or some festivals in Baltic countries, Poland or Austria.