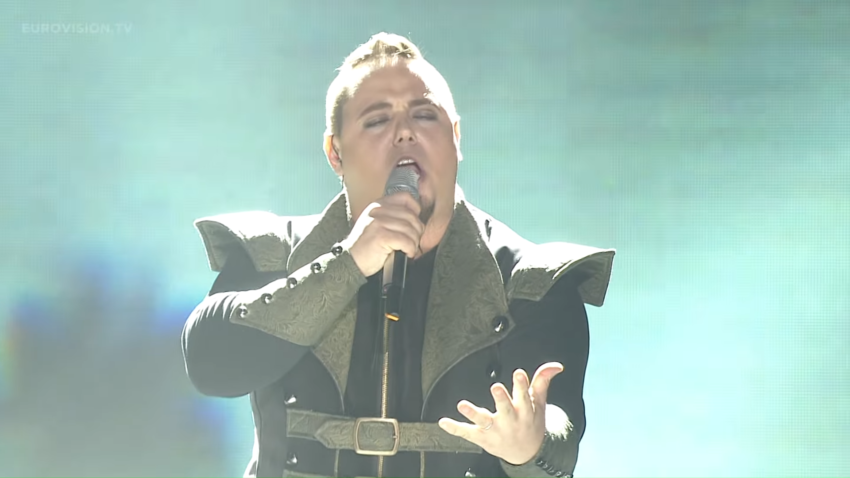 2016 was the first time in recent years that a selected artist for Eurovision didn't make it to the shows. Ovidiu Anton was planning to sing 'Moment Of Silence' in Stockholm when Romania instead was disqualified. Today fans are split between those who think Ovidiu could have won – and those who are not impressed at all.
For the 2016 Eurovision Song Contest, Romanian broadcaster TVR organised Selecția Națională to find their representative. Twelve acts competed in the Semi-final but only six made it to the national final. In March 2016 Ovidiu Anton won the Romanian national final. Therefore, he was supposed to represent Romania at the Eurovision Song Contest in Stockholm.
Ovidiu Anton performed his song at the Eurovision in Concert in Amsterdam, Israel Calling in Tel Aviv and at the London Eurovision Party.  All was set and ready few weeks before the Eurovision Song Contest. Unfortunately, EBU sanctioned TVR withdrawing the broadcaster from all member-related services in April, 2016. The reason behind this sanction was the broadcaster not meeting a payment deadline after "repeated non-payment of debts". For that reason, Ovidiu Anton's entry became not eligible for Eurovision.
Ovidiu Anton revealed on Facebook his planned performance for Stockholm. According to the storyboard, he should have included visual effects creating a mysterious atmosphere with special rays, lighting and thunders in his performance.
The lyrics of 'Moment Of Silence' are inspired on the victims of the tragic Colectiv nightclub fire incident from 2015. Ovidiu Anton wrote the lyrics Of Moment of Silence himself.
Moment Of Silence – opinions from fans
In order to find out what Eurovision fans today think of this Romania wishful entry from 2016, we asked our Eurovision Fan Panel. It includes team members as well as fans from all over the world.
🇳🇱 🇩🇰 Wouter V. – Such a pity Romania didn't have their finances in order. But maybe their withdrawal was for the better. If they didn't have money to participate, they sure wouldn't have had it to host either. This could have won!
🇳🇴 Steinar M. – I felt like crying when this song was forced to withdraw 😞 It was a a song which really grew a lot on me over the season. He had a really strong, rocky and powerful voice. The song was energetic and interesting. One of the best entries from Romania. Should be in the contest, and would be one of the best entries. Would be much better to be without their entries in 2007 and 2008.
🇬🇧 Ashleigh K. – This would have been an epic song for Romania had it gone on to compete. It's original, the vocals are great and I could have seen this doing very well.
🇩🇰 Alberte B. – I can't get over how freaking awesome this song is. It's so dramatic and would've fit the Eurovision stage so well! I think it might have gone a long way – maybe even top 10. Sadly, it couldn't be so.
🇳🇱 Eric O. – My first reaction was: 'Wait a minute, I don't recall this song?!' But then I looked it up in my Eurovision bible and read that Romania was denied participating in 2016 due to unpaid bills to the EBU…. Though it's a classic ballad with good vocals and an interesting performance, I don't think it would have qualified for the grand final, as the competition was pretty strong that year. 2016 was interesting in terms of top 3, because everyone thought Sergey Lazarev would win, but since 22 (!) juries didn't give him any points, Ukraine won with a political song…. 🤔
🇩🇰 Charlotte J. – Damn TVR for not paying their debt to EBU in time to participate at the Eurovision Song Contest in 2016. Had this not been disqualified, it would have been my favourite that year. It beats all other Romanian entries and in my eyes, it would have been fighting for the victory in 2016 – and that was quite a strong year. I absolutely love this one, and it's still one I listen to. Well done Romania for coming up with this one, but damn you for not paying your debt.
🇹🇷 Gunec G. – Oh my, this is a wound in my heart. As soon as I heard this one, it was one of my favourites that year. I can still feel the disappointment when Romania was disqualified due to its depths. We'll never know how marvelous it would look no ESC stage. 😢
🇷🇴 Doina A. – It is a great song: the lyrics and melodic line prove Ovidiu's vocal qualities! "Fight for the truth" and "Find the power in you"… a strong message for a melody that flows like a foamy river. The background singers have their musical part and, as a whole, this song is an hymn to the truth. I wonder if Romanian lyrics would have been better; but this song is beautiful!
🇦🇺 Craig M. – I am not a fan of this song at all. Not my kind of music and not a song I am familiar with.
🇨🇴 🇫🇮 Álvaro S. – This song had potential. An opera rock song in Stockholm with a visually stunning performance would have been a great recipe. This song has an epic vibe I can imagine as the soundtrack of a science fiction Netflix series. It is such a shame it could not make it to Eurovision.
🇨🇿 Josef S. – From time to time we see some good rock songs at Eurovision. Romania 2016 is an example of that. The only problem is that we did not see it at Eurovision in the end. Which is sad, because I think Ovidiu Anton is a good singer and the song could end up pretty high in Stockholm. Maybe it could have been interesting if part of the song would be sung in Romanian, it could add a different vibe to the song.
🇬🇧 Michael O. – Up until this time, Romania had always made the finals. I am sure this would have been their first to miss instead of the Humans. Way too mechanical, not impressed by it at all.
Enjoy Ovidiu Anton's performance from the 2016 Selecția Națională in the embedded video. Below the video, you can read more about him.
Ovidiu Anton – a mini biography
Ovidiu Anton was born in Bucharest Romania in 1983. He is a rock singer and songwriter. In 1998, he founded the rock band Carpe Diem. He performed with the band until 2002. From 2008 until 2012 he was the lead singer of the band Pasager.
Before winning the Romanian national final in 2016, he tried to represent his country four times. His band Pasager ended in 15th place with the song Running Out of Time at the 2010 Romanian national selection.  In 2012, he finished in fifth place with the song I Walk Alone. One year later, he finished in 11th place with the song Run Away With Me. After that, he finished in third place with the song Still Alive in the 2015 Romanian national selection.
Finally, in 2016 he won the Romanian national final with his song Moment of Silence. He was set to represent his country in Stockholm. Unfortunately, he was disqualified from the competition because of broadcaster TVR's failure to pay their debt to EBU.