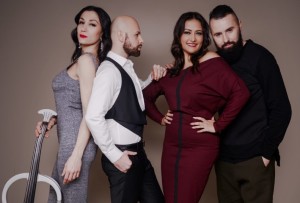 Last night the Bosnian-Herzegovinian team was celebrating Deen's 34th birthday at a restaurant outside Sarajevo. However the mood turned violent, when, during the celebration, a physical fight broke out. That fight led to the broadcaster now thinking of withdrawing their act.
Almir Ajanović, who is the songwriter and producer of the Bosnian entry Ljubav Je, both verbally and physically attacked Jasmin Fazlić Jala for no seemingly obvious reason. During the confrontation, Jala got his nose broken. The witnesses said that large amounts of alcohol had been consumed at the occasion, which led to the row. This happened last night as the team was celebrating Deen's birthday.
The head of the Bosnian-Herzegovinian Eurovision delegation, Lejla A. Babović, said that she is shocked by what happened last night and that one of the possible scenarios after this could be Bosnia and Herzegovina's withdrawal from the Eurovison Song Contest in Stockholm this year.
UPDATE: Deen tweeted the following regarding the situation which he toned down.
Journalist and TV host Hana Hadžiavdagić Tabaković who was at the party, and is known to be a close friend of Deen however added that a bottle Almir threw could have hit her in the head, and that she doesn't think that he should be a part of the Bosnian-Herzegovina Eurovision team this year. She was at the party as the TV station Hayat TV she works for organised the party. He further adds that she is puzzled why the story is being toned down that much as everyone was able to see what happened.
We are completely fine as u can see 🙏❤ Please don't believe everything you read 🙏🙏🙏🙏🎤🎤🎤🎤 pic.twitter.com/QmC95Wp0nM

— Fuad Backović DEEN (@DEENVOICE) April 13, 2016
Additionally, Fazla who represented Bosnia and Herzegovina at the 1993 Eurovision Song Contest commented on the situation:
If somebody has to be "punished" after the accident last night it shouldn't be the whole team, but individuals. Bosnia must not withdraw because of this.
Further updates:
Jala' released a statement in a video on the subject, which he published on his Facebook page. In the video, Jala mentions the following:
I have to disappoint all those who were hoping that I have been punched in my face. I am feeling good. People have to decide whether they will trust the media or their own eyes. What happened is a story. We have to move on. This Friday we will perform in Bugojno, and on Saturday we will be in Cazin and tonight at 8 PM you will see what the real scandal is. Your Jala Brat who loves you.
While they tried to tone it down, Ana Rucner mentioned on her Facebook this evening: "As a member of the Bosnian-Herzegovinian team I am shocked by Almir Ajanović's indecent behaviour last night, which led to some members of our team got injured. Deen, Dalal, Jala and I are very united and renspossible, we support each other, we stand behind each other and continue with our preperations for the Eurovison Song Contest."
We hope that the team manage to settle their disagreements so that we will see them on stage in Stockholm representing Bosnia and Herzegovina which you can see in the video below from their performance at Eurovision In Concert last Saturday.