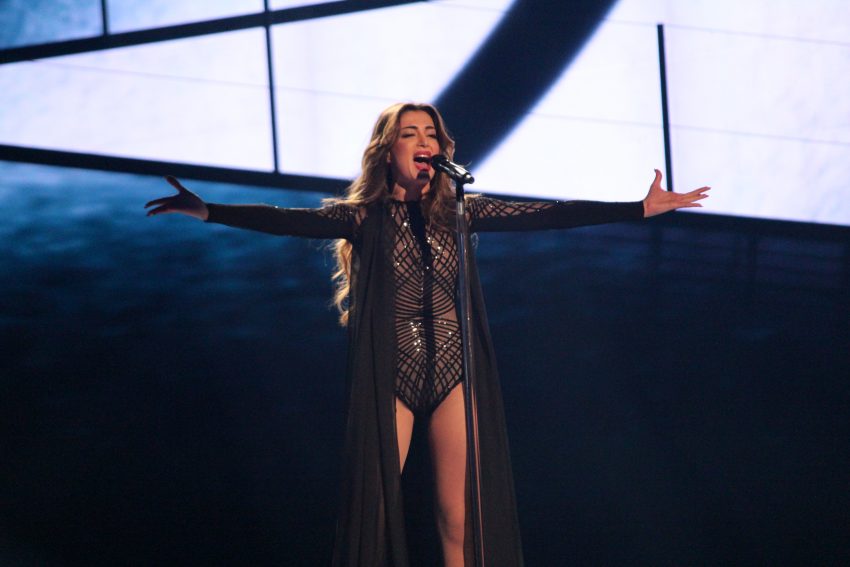 In 2016, Armenia stood out with a modern pop song and an impressive performance. Iveta was met with high expectations from Eurovision fans. She managed to bring home one of the best results Armenia has had in the contest. 
AMPTV, the Armenian public broadcaster, internally selected Iveta Mukuchyan to represent the country in Stockholm.  The announcement took place in October 2015. In March 2016 the song LoveWave was presented as Iveta's entry.
Iveta Mukuchyan performed her song LoveWave in seventh place in the first semi-final.  She ended up in second place with 243 points and thus qualified easily to the final. This was one of the best results for Armenia in a Eurovision semi-final since 2008. However, Iveta's participation in the semi-final was also notable for a controversy.  While she was in the Green Room, she raised a flag of Nagorno-Karabakh. The region is a disputed territory between Azerbaijan and Armenia.
The EBU condemned this incident after considering it a political message. Sanctions against Armenia were announced.
For the final, Iveta wore a black outfit. She was accompanied by her backing singers. Iveta's performance included holographic images of herself and fireworks.
Iveta Mukuchyan received 249 points and ended in 7th place. This is Armenia's best result in Eurovision since 2014.
LoveWave – opinions from fans
In order to find out what Eurovision fans today think of this Armenian entry from 2016, we asked our Eurovision Fan Panel. It includes team members as well as fans from all over the world.
🇨🇿 Josef S. – Iveta is the Armenian goddess and she really slays in LoveWave. I have to admit I wasn't a fan of this song for some time, but now I like it much more. She's really great singer, and the politics and her affair with Kharabakh flag can't over shine how good this song is! It's modern with some ethno sounds, a perfect combination actually 🙂
🇬🇧 Michael O.- This was an OK enough entry but nowhere near as good as it thinks it is. The performance seemed to pass by really fast, but there were many much better entries in 2016 than this one.
🇸🇪 Sara T. – I am quite ambivalent about this song. Both the song and the performance are cool with a unique mix between contemporary and traditional elements, but my heart doesn't start pounding when I see or hear it. I think there is something missing in the chorus, because I like the verses. I would have liked more power in the chorus, I think. All in all, it's a good song, just not one of my favourites.
🇳🇱 Frank S. – Oi….I am almost afraid to write this down as I think many will love this entry and I am the only one not being a fan….usually I actually like what is being sent by Armenia, but despite this being a nice pop song it simply doesn't do it for me once the build-up intro is done. Can't make more of this…next!
🇩🇪 Pascal W. – This is such a powerful and unique song. I remember I didn't' like the song in the beginning, but my opinion has quickly changed. I love the build-up towards the first chorus and her voice is very strong.
🇩🇰 Charlotte J.- I remember straight male team members being obsessed with her. Her legs practically made their eyes heart shaped… whether or not they liked the song too, I never found out. As for myself, unfortunately I don't like it. Maybe it's too modern for my taste? I don't know. I just know that it doesn't appeal to me at all.
🇨🇴 🇫🇮 Álvaro S. – I remember the fans going crazy for this song. Some even compared Iveta to Beyoncé. What I can say is that the performance was very professional and at the time it gave a positive impression. Then we have the flag controversy that may have affected her in the final.
🇳🇱 Wouter V. – LoveWave is literally all over the place, it's a mess – and not a very beautiful one. At least the staging and camera work match the song. The backing vocals seem to be doing what they can to hold it together, just a pity we don't get to see them. There must be a better use for Iveta's vocal qualities.
🇬🇧 Kat H. – I have to be honest – the only song I hate more than this from 2016 is the winner. While I do appreciate Iveta's vocal talent, I have no idea why people enjoy the song and presentation. Seventh place does an absolute disservice to the songs below it.
Enjoy Iveta Mukuchyan's performance from the 2016 Eurovision Song Contest in the embedded video. Below the video, you can read more about her.
Iveta Mukuchyan – a mini biography
Iveta Mukuchyan is an Armenian-German singer, model and actress. She was born in Yerevan, Armenia in 1986. Before returning to Armenia again, she lived most of her childhood in Germany where her parents moved to. She participated in music talent shows in both Germany and Armenia. This includes her participation in the German version of The Voice.
In 2016 she was internally selected to represent Armenia in Eurovision. She came in seventh place with her song LoveWave.
In 2017, Iveta released a single featuring Aram MP3 (Armenia 2014). In 2020, she claimed that the German broadcaster invited her to represent the country next year in Eurovision. However, according to her the broadcaster withdrew the invitation because of her political statement at the Eurovision Song Contest 2016. In November 2020, she released a charity single in support of the Armenian armed forces. She collaborated with Srbuk (Armenia 2019) and Sevak Khanagyan (Armenia 2018) among others for her new single.