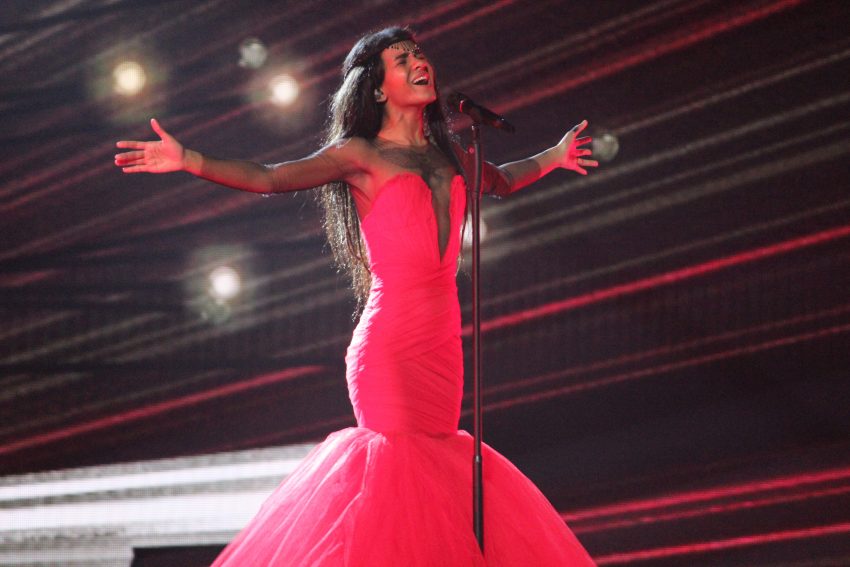 In 2015, Latvia had not qualified for a final in six years. However, Aminata exceeded expectations. Her song 'Love Injected' not only gave Latvia a pass to the final, but it is also one of their best results in Eurovision. Many fans still consider this entry one of their favourites from the 2015 Eurovision Song Contest.
In 2015 the Latvian public broadcaster organised Supernova 2015 to select their Eurovision entry. This marked the first year that they used Supernova as their national final. Twenty acts participated, but only eight advanced to the semi-final. On February 22, 2015 the national final took place with four acts remaining. Aminata won the televote and thus became the Latvian representative for Eurovision.
Aminata performed Love Injected in the second semifinal of the Eurovision Song Contest in Vienna. Her song not only marked a return to Latvia in a Grand Final after a six years streak but it also got 155 points in the semifinal. Love Injected easily qualified to the Grand Final in second place. This is the best Latvian result in a semifinal to this date.
For the Grand Final Aminata performed in a red dress with red and white lights used. The background screens showed cathedral-style windows. Love Injected received 186 points. It received the maximum 12 points score from Ireland and Lithuania and 10 points from Australia, Germany, San Marino and the United Kingdom. Love Injected finished in sixth place overall and in second place in the jury vote. This is the best result from a Latvian entry in Eurovision since Walters and Kazha's 2005 song The War is Not Over.
Love Injected- opinions from fans
In order to find out what Eurovision fans today think of this Latvian entry from 2015, we asked our Eurovision Fan Panel. It includes team members as well as fans from all over the world.
🇹🇷 Günec N. – OMG Latvia's best entry ever. Should've been top 3. Aminata is a real queen of electro pop. The song, the voice, the costume, the stage; all amazing.
🇲🇹 Christopher D. – Love Injected is that kind of Eurovision song that I did not consider at all before the semi-final night. It then started to grow on me and by her live performance during her semi-final I became an Aminata fan. She delivered the song impeccably and the performance was really of great quality, thanks to the amazing visuals too. I would have expected a top 3 finish for her. She remains one of Latvia's best representatives so far.
🇬🇧 Michael O.- Latvia's most recent big artist at Eurovision, but I'm actually not that keen on the song. Aminata definitely gave a great performance but I think the whole package is a little hollow.
🇬🇷 Kostas C. – A very powerful song with a great stage performance. A total class, pure quality and for me the best Latvian entry ever. It could end up even higher at the scoreboard, since this song stands out among many others at the final.
🇷🇴 Mihai D. – Vienna 2015 was a year of "grace" in the Eurovision Song Contest. Latvia, a Baltic country, surprised us with a thin girl, with an exotic air that projected us with the thought in the Middle East or North India. Maybe it were the details of the hands painted with henna or the drawings of the Persian windows in the background. The beautiful Aminata sang perfectly. Her versatile voice, minimal choreography, orchestration and modern, fresh, balanced and ingenious arrangement brought Latvia to the forefront with a WOW moment. Love Injected infiltrated my soul.
🇩🇰 Charlotte J. – I remember many fans being intrigued by this one. I wasn't one of them. Yes, I can hear that her voice is really strong, but her way of singing annoys me a bit. The music doesn't appeal to me either. I don't understand that this came 6th in the final, I didn't even have it as a qualifier that year.
🇺🇸 Grace W. – Love Injected was one of the defining moments of my first Eurovision, I remember being confused by the song itself and complaining it didn't have much of a tune. Looking back, I've grown to like it, and it's one of Latvia's better entries of the 2010s. Not my 2015 winner, but still good.
🇨🇴 🇫🇮 Álvaro S. – I really like everything about this performance, from the enigmatic feeling it gives me watching Aminata in her red dress singing in the dark to the way she dances. And let's not forget her amazing vocals it is… wow she is so talented. I agree completely with the juries on this one.
Enjoy Aminata's performance from the 2015 Eurovision Song Contest in the embedded video. Below the video, you can read more about her.
Aminata – a mini biography
Aminata Savadogo is a Latvian singer, model and producer. She was born in Riga, Latvia in 1993. Aminata started her music career when she was a child. She participated in Krodziņā pie Paula, a televised music show, in Latvia when she was 15. Aminata participated in the 2014 Latvian national selection with the song I Can Breathe. Her song ended in fifth place.
One year later, she represented her country in Eurovision with the song Love Injected. Her participation gave Latvia their first pass to a Grand Final after six years. Aminata penned Heartbeat, the Latvian 2016 entry for Eurovision. In 2020, she wrote the Latvian Eurovision song Still Breathing. She has recorded three studio albums to date.