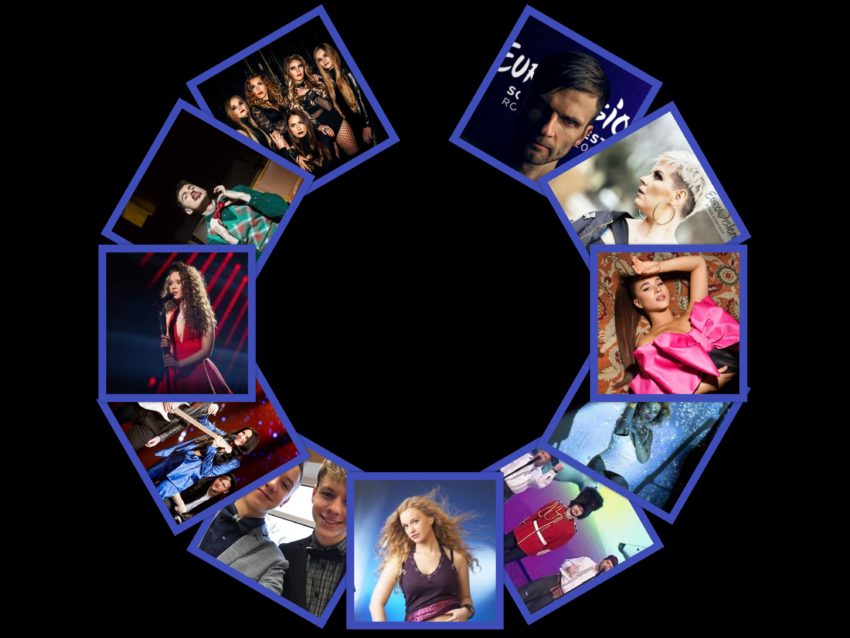 Pabandom iš Naujo! means Let's Try Again, and indeed several acts are trying again to represent Lithuania at the Eurovision Song Contest 2021. Here's a closer look at the artists competing in the first Lithuanian heat this Saturday.
The Roop, having lost out on representing Lithuania last year with On Fire, will proceed straight to the Pabandom iš Naujo! final with the song Discoteque. The final will be held on 6 February 2021. The first heat will be held on 16 January.
The second heat will be held on 23 January with the semi-final going ahead on 30 January 2021. Let's hope all the acts will make it to the show as police in Lithuania are blocking people from leaving their area, due to COVID-19 restrictions.
Here is some brief information about the first set of competing acts. Good luck to them all.
Aldegunda
Miss Gaile returns with the Lithuanian sung but  English titled, Sit Down. Aldegunda last performed in the Antranka 2019 with the highly entertaining I Want Your Love, but alas did not make the final. Aldegunda lived with her husband, Kestutis in the United States for 19 years but returned to Lithuania with their family. Their search to find a new home was documented on Lithuanian Television last year.
Be U
Be U are a five-piece band consisting of vocalist Guoda Gailiūtė, guitarist Saimonas Stasytis, drummer Dovydas Stoškus, bassist Dovydas Mažonas and keyboardist Martynas Stoškus – so now you know whose who when you watch them on Saturday. Their song is called Love Yourself and this will be the first time they have tried to represent Lithuania. The band are from Šilutė, right on the coast of Lithuania.
Black Spikes and Indrė Launikonytė
Black Spikes are well named as they are five foxy ladies who like to dress in black leather and look rather gothic, and perform metal music. They will be joined in the song, Don't Tell Me by Indrė Launikonytė. Black Spikes have been together for over two years. Indrė has a very powerful voice and performs pop, jazz, blues and R and B, in fact the whole package, and speaks six languages too, she's the bionic woman.
Donata Virbilaitė
Donata was born in Mosonmagyaróvár, Hungary and this is her fourth year in a row at Let's Try Again. Unfortunately this competition hasn't been too kind to natural red head Donata, so far, with her best placing being 10th in her heat. This year she will be hoping to improve her run of disappointing results with the song The Way I Am.
Martyna Jezepčikaite
And now we have an ex X-Factor contestant whose mother didn't wash her mouth out with soap and water as her song is called F**k You Very Much, and the same to you back. Martyna was the runner-up of the seventh season of X Faktorius, having been mentored by Saulius Prūsaitis, and indeed she has a good singing voice.
Milita Daikerytė
You wait all year for X Factor contestants to show up at National Finals and then you get two in a row, only this time Milita was the actual winner of Season 8 of the Faktorius, mentored no less than by sometime Lithuanian judge Jazzu, partly responsible for all those previous winners Lithuania has sent to Eurovision. Milita will wrap her chops around the song Shadows.
Thomukas
Thomas Tumosa is making his first attempt to represent Lithuania with the song Wish. Thomas runs the Zen Republic entertainment site. He is also an old X Faktorius contestant having appeared in the third season in 2015, and indeed finishing third. Like Martyna, he was mentored by Saulius Prūsaitis. Saulius Prūsaitis of course was lead singer of the group, Happyendless.
Titas and Benas
Back to the seventh season of X Faktorius again for the bouncy duo of Titas ir Benas, who came third in the series, mentored by Saulius Urbonavičius.. who?, well he's the lead singer of big Lithuanian rock band Bix, who've been on the go since 1987. Anyway back to our harmonious duo, the cousins are bound to appeal to the female viewers, with their song No.
Twosome
Not content with popping up at all the Lithuanian selections of late, Twosome also gatecrashed X Faktorius season 8, placing fourth and performing On Fire no less. The genius of, if you can call it that, Zigmantas Baranauskas, Justinas Stanislovaitis and Paulius Šinkūnas, the trio will be back this year with I Love My Bear.
Voldemars Petersons
This will be Voldemars' third year in a row participating in the contest. Last year he placed 11th in his heat of 12 with Wings Of Freedom. Voldemars music has a hint of pop group Modern Talking about it, which is quite clear to hear in this year's song, I Never Fall For You Again. He should do better with this song than he did last year.
Below you can watch the video of Aldegunda's entry for 2021 – Sit Down