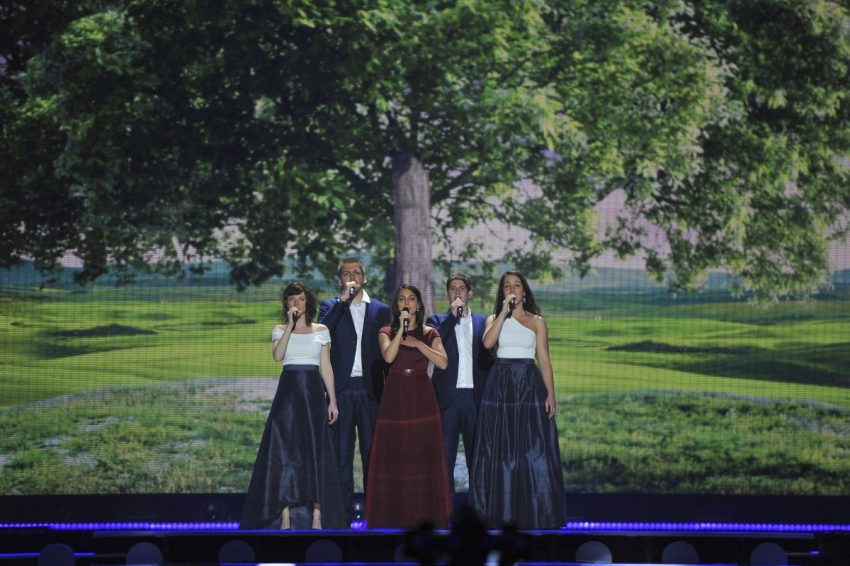 Hungary will be performing 9th in the upcoming First Semi Final this Tuesday. The country is represented by Boggie with the song Wars For Nothing. Are there any changes since the country's first rehearsal? What is the impression left by the song amongst the other entries in the running order? We try to answer your questions reporting live from inside the hall of Wiener Stadthalle.
Hungary is lucky to be following Serbia in the running order: Serbia's up tempo exuberance provides contrast for Hungary's restrained elegance. Again, there are no presentational changes I can see from Hungary's first rehearsal. Boggie still looks and sounds good. Many in this year's Eurovision are using trees on their stage graphics but few do it as well as Hungary; one tiny bit to be made however would be that the finale of the song where the singer and her backing vocalists are standing side by side with the tree behind them works better when Boggie manages to be right in the middle of the stage.Once more, sleek performances throughout. I would not be surprised if Hungary managed to make it to the final with this presentation.
Hungary has managed to qualify six out of the ten times it has competed in a semi final (four of them instances were before the introduction of the current semi final system).
Our video from Hungary's second stage rehearsal can be seen below.