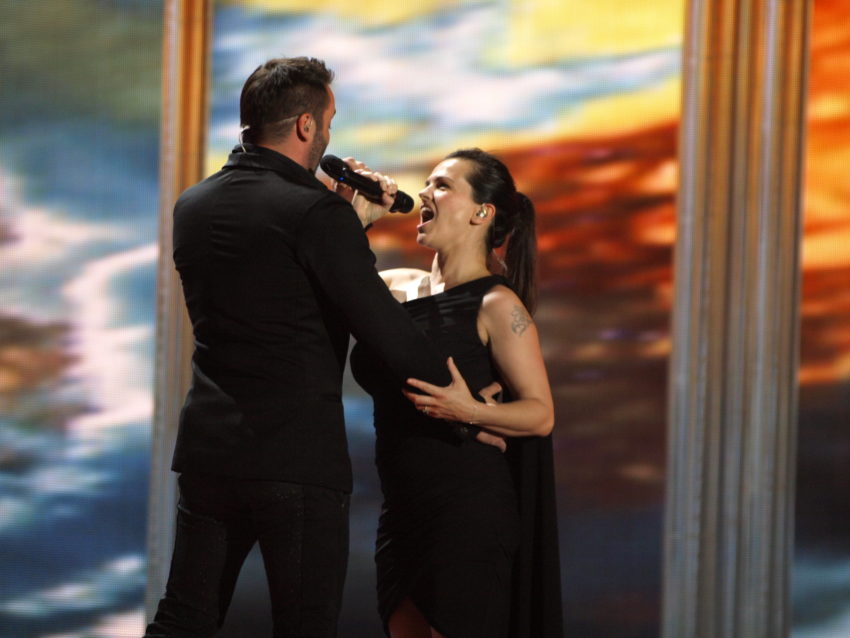 Beautiful, dramatic and powerful song. But why did Marta and Václav stayed in the semi-final? We take a closer look at the Czech entry from the 2015 Eurovision Song Contest.

It was back in autumn 2014, when it was surprisingly revealed that Czech Republic would return to Eurovision. Its broadcaster Česká televize went for an internal choice. First, they chose a famous Czech composer Ondřej Soukup to provide the songs, either to be composed by him or to find someone to compose them. From the songs, the internal jury then chose Hope Never Dies, produced by Ondřej Soukup and composed by Václav Noid Bárta. Václav was chosen to perform the song with his colleague and close friend Marta Jandová, as it was originally composed as a duet.
The duo went then to perform at London Eurovision Party and already before Eurovision became very popular among the fans, mostly thanks to the chemistry between Marta and Václav and how big fun fans and press had with them at interviews. In Vienna, Austria, Marta and Václav performed Hope Never Dies in the second semi-final, 8th in the running order. But the predictions that this could be the first time Czech Republic may qualify for the final were not correct and the result was 33 points and 13th place in the semi-final. But still, this was the best Czech result at Eurovision back then.
Hope Never Dies – opinions from fans
In order to find out what Eurovision fans today think of this Czech entry from 2015, we asked our Eurovision Fan Panel. It includes team members as well as fans from all over the world.
Adi S. – Oh, 2015, why can't they all be 2015? This is a strong duet, not quite high up there with Calm After The Storm (Netherlands 2014) or Goodbye To Yesterday (Estonia 2015), but not too far from them. Probably the country's second-best song, after Lie to me (Czech Republic 2018).
Linete A. – What a beautiful song! I don't understand how such a magnificent duo with two absolutely amazing voices didn't make it to the final. This song was very under-rated and with such strong lyrics and such strong instrumentals, it's just unbelievable! They really deserved to get to the final and even be in the top 5! What magic.
Martti I. – Hope Never Dies, but unfortunately it did for them. Melody was something I liked, but I knew how it is far too difficult for this type of song contest. They sang very well, matched nicely and the drama, I just adored. With tiny changes In intro, bit in stage act, perhaps it would have been enough to please the voters? On the other hand, I liked it, liked the artists so everything is cool.
Charlotte J. – Vocally they are quite strong, in particular, I adore him. With the first line of the chorus I am hopeful, thinking that now it will be really good… first chorus let me down. When the second one comes, I am thinking that ok, now it will explode… Again, it didn't. And throughout the song, the climax never came. That's a shame. As such it's, unfortunately, a boring ballad with a lot of potential never used.
Josef Š. – Marta and Václav are a great duo and Hope Never Dies is the first Czech entry at Eurovision, where I don't have to feel ashamed for this being our entry. And I loved it. As it was the first song in the second decade of the new millennium. The song is a well built, with a climax and a key change towards the end. They both are experienced performers and I am pretty sure that if they would take part in Eurovision today, the whole staging would be better than it was in Vienna. It is a shame, that we did not qualify back in 2015, I believe we should have been in the final.
Alvaro S. – This was such a dramatic and powerful song. The performance however looked to me like if they were overreacting to make the song look even more dramatic than it already was with all including Marta throwing her heels. This overreaction did not add up to the song and made it less natural. Apart from that, it deserved a spot in the final.
Michael O. – Before the contest, I didn't think this would qualify but I was glad to see the Czech Republic back at Eurovision. After the performance at the semi-final, I began to change my mind and thought this deserved to make the final. Alas, it was not to be, but it was a nice welcome back for the country.
Gunec G. – A very good performance reminding us of Broadway musicals. Václav and Marta are both very good singers. However, I somehow don't think they match as a couple.
Quique B. – Marta and Vaclav had a good performance in Vienna. Good voices. The song is correct, not for reminding all my life and probably neither that year, but it's pleasant. I think that if they would have sung in Czech, probably the song would not be so unnoticed in the semifinal and would get the pass to the final but obviously, it's a personal appreciation from me.
Kat H. – I remember really enjoying Hope Never Dies in the build-up to the 2015 concert. It had a dark rocky feel that I really appreciated alongside the Azerbaijani entry. In the second semi-final, Marta and Václav performed well and their vocals really allowed the song to shine. Marta's signature shoe removal wasn't shown especially well in the editing and unfortunately, as this was a strong semi-final, I was disappointed when it didn't qualify.
Enjoy Marta & Václav's performance from the 2015 Eurovision Song Contest in the embedded video. Below the video, you can read more about them.
Marta Jandová & Václav Noid Bárta – a mini biography
Marta comes from a musical family as her father is well known Czech singer, frontman of a group Olympic. So it was no surprise that she also ended up as a singer. She took part twice in Bundesvision Song Contest, a famous German adaptation of Eurovision. In 2005, she sung with Finnish group Apocalyptica and ended on a 5th place, while two years later she won with German group Oomph!. In Germany, Marta founded in 1993 an alternative rock band Die Happy and is still active. Back in the Czech Republic, Marta played in few musicals, i.e Mona Lisa, and was active as a judge in multiple shows – Czech and Slovak Superstar, The Voice of Czech and Slovakia, Masked Singer or Czech and Slovak Got Talent and hosted also her own talkshow. In August 2013, Marta gave birth to her daughter Marie. So far only one solo CD, has been released – Barvy (Colours).
Also Václav is a member of a family made of many musicians. His father is a writer and director, his mother is singer, his cousin is a composer and a conductor. Václav is then not only a singer, but also a songwriter and an actor. Václav was a lead singer in a nu-metal group Dolores Clan and currently has his own group BekBek Clan. He appeared in many musicals and is still acting. He released two solo CDs and has two daughters Eliška and Tereza.