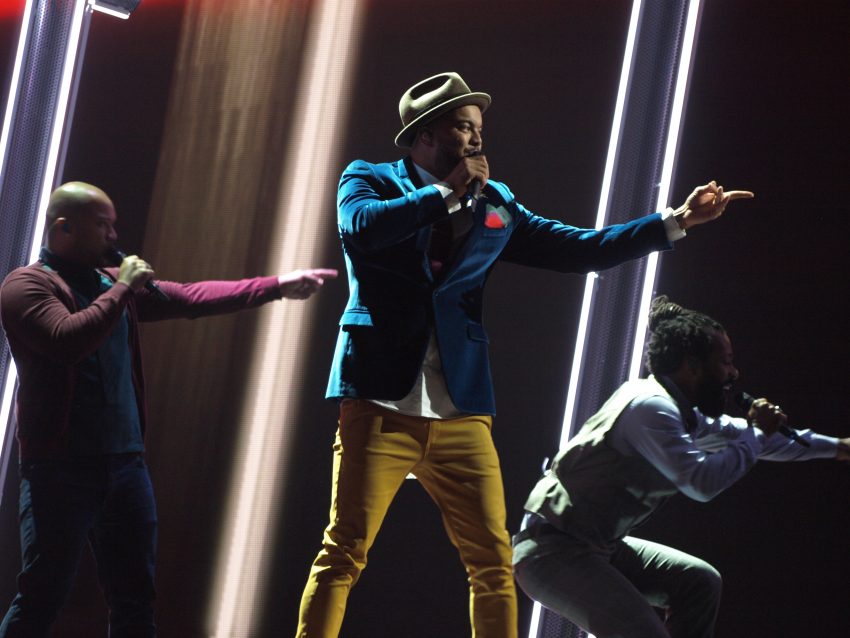 In 2015 EBU surprised fans with a big announcement: Australia would debut in the Eurovision Song Contest to celebrate the 60th anniversary of the contest. Guy Sebastian was put in charge of representing Australia. It's hard for fans to comment on his song without talking about whether or not the country should take part. 
In February 10, 2015 the European Broadcasting Union (EBU) announced that Australia was to debut to the Eurovision Song Contest.  This participation was a special one time event to celebrate the 60th anniversary of the Eurovision Song Contest. Notwithstanding that Australia is only an Associate member of the EBU, it got an invitation considering its long tradition of broadcasting the contest. The one time turned out to be permanent. Australia has taken part every year since.
In March, 2015 broadcaster SBS internally selected Guy Sebastian to represent the Oceanian country in Eurovision.  Thus, he became the first representative to wave the Australian flag in Eurovision.
When EBU made public that Australia would compete in 2015 it also decided that they would have a safe spot in the final. Therefore, Guy Sebastian was automatically qualified for final in Vienna.
Guy Sebastian performed his song Tonight Again in 12th position. Guy wore a suit accompanied by his 4 backing singers. The stage was decorated with lightnings posts and an urban screen representing a city in the night. By the end of the night Australia had received 196 points. That was enough for Australia to get a top 5 result.
Tonight Again – opinions from fans
In order to find out what Eurovision fans today think of this Australian entry from 2015, we asked our Eurovision Fan Panel. It includes team members as well as fans from all over the world.
🇦🇺 Craig M. – First of all, let me say I am one those Australians that thinks Australia SHOULD NOT be in Eurovision… but… it is what is! Having said that, if we are going to be in Eurovision, I think we may as take it seriously and send decent, respectable entries. The debut entry by Guy Sebastian was a good start, and I really did like his song. Tonight Again is true to Guy, and it is exactly the kind of song he would release whether he was in Eurovision or not, and I respect that. I do like the song, and sometimes it still gets played on radio in Australia, and I enjoy it when it is on. For me, it's about a 7 out of 10! (Guy is also from my home town of Adelaide, Australia, so it is a small world).
🇬🇧 Michael O. – At the time I thought this was a reasonably good entry considering how quickly it was written. However as time has passed I can say this is my least favourite entry of all that Australia has sent. I now find the song quite irritating.
🇹🇷 🇫🇷  Egemen O. – I was there in 2015. There was no certain favourite and it was considered as a potential winner alongside Italy and Sweden. Well, the community were absolutely right! I was especially surprised to see street lights on the stage. Simple, but marginal at the same time. The positive vibe of the song which Guy also possessed (on and off the stage) makes me smile whenever I listen to it. In my opinion, if it was released in the US, it would definitely hit top charts all over the world.
🇨🇴 🇫🇮 Álvaro S.- I remember when Australia was announced "for one year only" I was expecting them to send Kylie. I can be so naive sometimes 😊 Although this is one of the weakest of the Australian entries (2017 being the one I like the less) the song was really enjoyable. A nice start for this Oceanian country.
🇳🇴 Stine F. – I love everything about this contribution from Australia. His energy, the melody, the staging, his outfit, smile and hat. It just puts me in a good mood! 🙂
🇩🇰 Charlotte J. -I was naive in 2015, I admit that. I believed EBU when they said Australia's participation was a one-time-thing, and I could live with that. I saw it as a possibility of introducing a guest country every now and then. That idea I liked, but I wasn't pleased with them being automatically qualified for the final in 2015. With Guy Sebastian's Tonight Again it wouldn't have made any difference though. It would have qualified easily no matter, which semi-final it had been in. This is a catchy, enjoyable and well performed song. A well deserved 5th place – that's around where I would place it too.
🇬🇧 Paul G. – To be honest I'm not a massive fan of this song. I think Australia have sent better since this.
🇲🇹 Amira M. – This song from Australia is simply the best, he has a great voice with clear diction.The backing vocals were in time with Guy Sebastian and the beat. I honestly think Guy Sebastian is such a great performer.
🇹🇷 Günec G. -Positive vibes from Guy Sebastian and Australia's first ever appearance on the Eurovision stage. A historical moment. The song is only a level higher from nice. I like Guy's Jimmy Chambers like misty voice.
🇦🇺 Michael R. – I'm anything but objective when it comes to this song. I'm Australian and this was our first and at the time was supposed to be our only entry unless we won. It was a big deal for us. I may have been a little overly critical at the time of every detail because I thought we could've done better with our only chance at competing but in hindsight I can be objective about this and say I'm proud of this entry. It's good song, guy Sebastian is an amazing performer (even if I think he's a bit full of himself) and the staging really was creative and different.
Enjoy Guy Sebastian's performance from the 2015 Eurovision Song Contest in the embedded video. Below the video, you can read more about him.
Guy Sebastian – a mini biography
Born in 1981 in Malaysia, Guy Sebastian grew up to become a well known singer. In 2003 he won the Australian version of the X Factor talent show. In his music career he combines pop, R&B, funk, gospel and pop rock. To this date, Sebastian has released nine studio albums and has received several sale certifications in his country.
In 2015, Guy Sebastian represented Australia in the Eurovision Song Contest. His song Tonight Again gave Australia a top 5 result in their Eurovision debut. He has collaborated with popular American musicians including Robin Thicke, John Mayer, Jordin Sparks and Lupe Fiasco. In fact, his single in collaboration with Lupe Fiasco entered the US Billboard Hot 100 for several weeks.
On the 20th of October 2020 Guy Sebastian announced that he will be on tour in 2021 promoting his new album T.R.U.T.H.