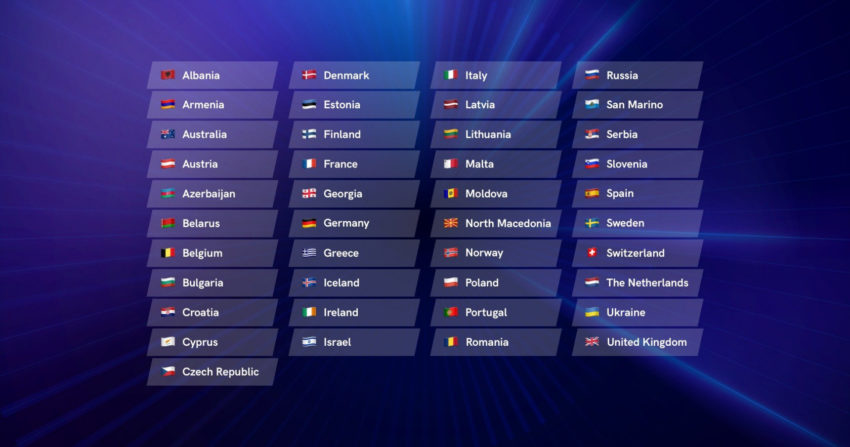 The EBU announced today that 41 countries will take part in the Eurovision Song Contest when the world's biggest live music event returns next year.
Following the cancellation of the 2020 event, the 65th Contest, organised by the European Broadcasting Union (EBU) and its Dutch Members NPO, NOS and AVROTROS, will be held at Rotterdam's Ahoy Arena on 18, 20 and 22 May 2021.
Martin Österdahl, Executive Supervisor of the Eurovision Song Contest, said: We are grateful for the commitment of the 41 participating broadcasters in helping us bring the Eurovision Song Contest back in 2021.
The countries who will appear are exactly the same as the ones who has been expected to appear in 2020. Hungary, Montenegro and Andorra are among the countries who are not returning.
Sietse Bakker, Executive Producer of the Eurovision Song Contest 2021, said: It is fantastic that the same 41 countries that would have taken part this year still want to come to the Netherlands in May 2021. This demonstrates their confidence in our country still being able to organize a successful Eurovision Song Contest in Rotterdam next year, after the cancellation of the 2020 edition.
The countries which will take part in the Eurovision Song Contest 2021 are:
Albania (RTSH)
Armenia (AMPTV)
Australia (SBS)*
Austria (ORF)
Azerbaijan (Ictimai TV)
Belarus (BTRC)
Belgium (VRT)
Bulgaria (BNT)
Croatia (HRT)
Cyprus (CyBC)
Czech Republic (CT)
Denmark (DR)
Estonia (ERR)
Finland (YLE)
France (FT)
Germany (ARD/NDR)
Georgia (GPB)
Greece (ERT)
Iceland (RUV)
Ireland (RTE)
Israel (KAN)
Italy (RAI)
Latvia (LTV)
Lithuania (LRT)
Malta (PBS)
Moldova (TRM)
The Netherlands (AVROTROS)
North Macedonia (MKRTV)
Norway (NRK)
Poland (TVP)
Portugal (RTP)
Romania (TVR)
Russia (Channel One)
San Marino (RTV)
Serbia (RTS)
Slovenia (RTVSLO)
Spain (TVE)
Sweden (SVT)
Switzerland (SRG SSR)
Ukraine (UA:PBC)
United Kingdom (BBC)