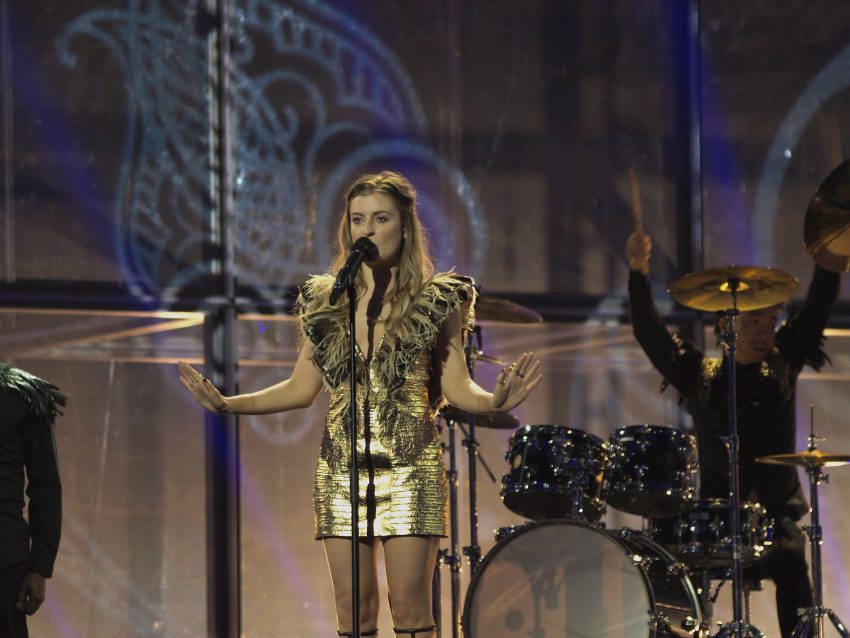 Molly and her track 'Children Of The Universe' were one of the late favourites in the 2014 Eurovision Song Contest but ended up finishing in 17th place out of 26. Six years after the contest in Copenhagen we ask our fan panel on what they think about this entry from the United Kingdom.
Molly became the United Kingdom's entry for the 2014 Eurovision Song Contest after being internally selected by the BBC. Her self-penned track Children Of The Universe described by the BBC as "an anthemic, uplifting track specifically written with live performance in mind" was recorded in Stockholm with a 28-piece orchestra and produced by Anders Hansson. Children Of The Universe crept up in the betting odds in the days and hours leading up to the Grand Final but finished mid-table in 17th place gaining 40 points from the jury and public vote.
Molly was the last act to perform during the Grand Final in Copenhagen. Joined on the stage by 4 backing singers and an enthusiastic drummer, Molly wore a gold dress and looked very much the indy earth mother with henna tattoos on her palms and arms. You can remind yourself of her performance by watching the video below.
Children Of The Universe – Opinions from fans
In order to find out what Eurovision fans today think of this United Kingdom entry from 2014, we asked our Eurovision Fan Panel. It includes team members as well as fans from all over the world.
Josef S.- This was one of the entries from UK that got the biggest potential. And I still don't know where did it went off as I believe it really is one of UK's best shots at Eurovision in the last decade. Molly is likeable, the song is catchy with a memorable beat and good backing vocals. And costume is great as well. This was the biggest surprise in 2014 that it ended so bad despite all those predictions and expectations it will do really well. I still love it, though! ❤
Michael R. – This is truly brilliant. The lyrics seem a bit cliche At first listen but if you understand the background behind it and the lyrical inspiration you realise the complexity of trying to understand your place in the world and putting it to some use for better. The staging was quite impressive and those backing vocals were amazing, I wish the UK had done better with this and stuck with the BBC introducing platform, it was a really good strategy.
Kat H.-  Hailing from the same part of England as Molly Smitten-Downes, I was over the moon when the BBC chose her entry to represent the UK in 2014. Her contemporary unique vocals and trendy presentation were FINALLY a step in the right direction after the previous 4 entrants which, in my honest opinion, were truly woeful. Her 17th position was a criminal underachievement and prompted the BBC to return to trash for their entries for the subsequent few years! More like Molly please BBC if you're listening!
Maarti I.- So sorry. This was just terrible. Perhaps the biggest disappointment of the decade. I must admit,that there are pretty clever ideas behind it, but honestly speaking they didn't use those enough. Artist was good enough,vocally, but stage charisma just was missing totally. Real flop.
Eric O. – Though it wasn't as bad as previous UK entries like Bonnie Tyler, this song didn't do much to me. And with a 17th place in the Grand Final, I guess I wasn't the only one thinking that. I also didn't understand the performance, but that could be just me. Luckily, there were much better songs that year, including Conchita's Rise Like a Phoenix!
Michael O. – Once again an entry which foolishly some members of the U.K fandom thought would win. The stage performance put paid to those dreams, and just like so many of our entrants, Molly becomes a forgotten name. Passable entry though.
Charlotte J.- I haven't heard this since 2014. I seem to remember that I actually liked it, but listening to the song again now, I am doubting my memory. The first half of the song, I really don't like it. The second half is much stronger, so it must be that my memories are based on. That's not enough. Sorry UK. 4/10.
Kostas C. A very good song! I still listen to it. I believed that they would do very well until I saw it live. A very bad live performance. Even vocally. And the stage presentation was awful. I am wondering how this gold dress, didn't win the Barbara dex award!
Ashleigh K.- Children Of The Universe is my favourite entry from my country in this decade. I particularly liked how the BBC picked an artist who wrote their own song and who wasn't a household name but who had experience on the stage before. I really liked the song and I thought we would easily get a top 10 place in 2014, the song had a strong message and one that most would relate to. I don't know if Molly was nervous but she didn't seem to connect with the camera and therefore the audience watching the contest at home. She doesn't look passionate and the message of this song needs passion. I do still love this song and I do think it deserved a top 10 place and might have got it if Molly connected more with the camera.
Alvaro A.- This song was one of the early favourites that I still love. Although I think it should have got a better result, there was something that made the song forgettable by the audience. The performance just when Molly was announced as the UK representative was better than the actual performance in Copenhagen but apart from that I cannot come up with a reason why it did not get a top 10.
Enjoy Molly's performance from the 2014 Eurovision Song Contest in the embedded video. Below the video, you can read more about her.
Molly – A mini biography
Molly was born Molly Smitten-Downes in Leicestershire which is located in the midlands. She studied music at the Leicester College and then the Academy of Comtemporary music in Surrey. Early in her career Molly collaborated with Sash! and Basshunter with her work with Sash! entered the UK singles chart peaking at a respectable 9th place.
When initially approached for Eurovision Molly turned down the offer but was later persuaded after being offered the chance to enter with one of her own songs. After Eurovison Molly performed at Glastonbury festival and released a couple of tracks with German artist Zwette and British DJ Si Tew.