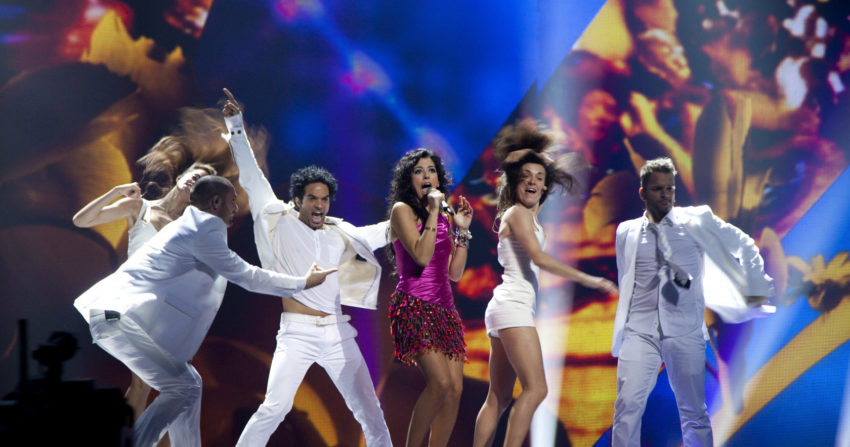 In 2011, Lucía Pérez represented Spain with the happy tune "Que Me Quiten Lo Bailao" where she sang about enjoying life in spite of negativity. However, in a competitive year as 2011 her song was mostly ignored.

Spain organised Destino Eurovisión to select their 2011 entry for Eurovision. The 2011 national selection included two heats and one semi-final where the contestants performed previous Eurovision songs. Three acts advanced to the final which took place on February 18, 2011. Each act performed three songs. The jury voted for their favourite song from each act. In a second round, the televote selected their favourite song.
Lucía Pérez won the televote with Que Me Quiten Lo Bailao by a landslide. Spanish boyband Auryn came in second place. Blas Cantó, the Spanish 2021 participant was a member of this band.
Lucía Pérez performed her song in Düsseldorf, Germany. On the night of the final Lucía Pérez performed wearing a pink dress. She sang together with her backing dancers who wore white suits and the backdrop screen which showed palm trees. Que Me Quiten Lo Bailao obtained 50 points and ended in a 23rd place in the final.
Que Me Quiten Lo Bailao – opinions from fans
In order to find out what Eurovision fans today think of this Spanish entry from 2011, we asked our Eurovision Fan Panel. It includes team members as well as fans from all over the world.
🇩🇪 Andrew G. – I have good memories of the Spanish entry. I got to see all the shows in person. And after the performance of the jury final I got to high five Lucia & her dancers. They were full of adrenaline. I really enjoy the song. Reminds me of holiday in Spain. Bouncy and fun with a drink in hand, like the lively performance. The Big 5 all had good songs in 2011. Not winners but memorable entries.
🇸🇪 Jill R. – Outside of Eurovision I really like to dance to Latin music, and I appreciate a powerful Latino ballad. But in Eurovision it seems like Spain often have trouble to bring equally good music. 2011 is one of those years. This song is just banal and the choreography is cheesy. But not cheesy enough to be fun and rememberable. I had totally forgotten this song. Unfortunately the singing doesn't lift the song either, since Lucia's voice isn't that good. Also, the Irish sounding music (that I normally like) doesn't really fit the song. A placing near the bottom is about right.
🇬🇷 Kostas C. – A very weak song from a very weak voice. Nothing to stand out and in addition a very cheap stage presentation. This Latin rhythm sounds quite boring.
🇬🇧 Louis E. – In the midst of quite a chaotic eurovision final, this song was quite a nice palate cleanser. Some parts are quite lazily written and the hook can get quite annoying especially after the key change, but it's clear that more focus was put on having a happy song with traditional elements. Maybe it didn't deserve to do so badly, but I understand why it did consider it isn't a competitive song at all.
🇩🇰 Charlotte J. – A catchy, fun and enjoyable song, but also a weak song that keeps repeating itself. At the start of the song, I enjoy it, but it doesn't take more than a minute before I just want to turn in off again. I had forgotten all about this song, and I soon will again. 2011 was quite a good year, but this one… it just falls flat, despite it being that fun in the beginning.
🇬🇧 Michael O. – Quite liked the dancing that was going on behind this performance. A nice happy entry from Spain, not sure why it did so poorly, unless it was just there were too many other good songs that year.
🇨🇴 🇫🇮 Álvaro S. – A song with such a long name. I don't know why it did not do so well in Eurovision. At least for me, it gives me an immediate smile. It is a song that is easy to listen, and it sounds enjoyable. Sad it did not get a better result.
🇷🇸 Miljan T. – Though it wasn't anywhere near my favourites, I still like it quite a lot and I think it's one of the more "Spanish" sounding entries from Spain this past decade. It certainly deserved more than 50 points and a place at the back of the scoreboard.
🇪🇸 Alexander S. – In 2011 Spain chose its song through a national final and the Galician born singer was the winner with her second song. The song has some Celtic, pop sounds, and It makes it a happy song, despite the performance being a simple one, Lucía sang very well but as usual for Spain not a good result. Luckily, she still has a brilliant career. I like the song because of lyrics and also, because It is catchy.
Enjoy Lucía Pérez' performance from the 2011 Eurovision Song Contest in the embedded video. Below the video, you can read more about her.
Lucía Pérez – a mini biography
Lucía Pérez was born in Lugo, Spain in 1985. In 2002, when she was 17 years old she got her first major musical achievement when she won Canteira de Cantareiros, a regional talent show. In 2005, she represented Spain in the Viña del Mar International Song Festival held in Chile where she came in second place.
In 2011, she represented Spain in the Eurovision Song Contest with the song Que Me Quiten Lo Bailao. Unfortunately, she scored badly with her 23rd place.
To date, Lucía has released seven studio albums. Her latest work Quince soles was released in 2018.