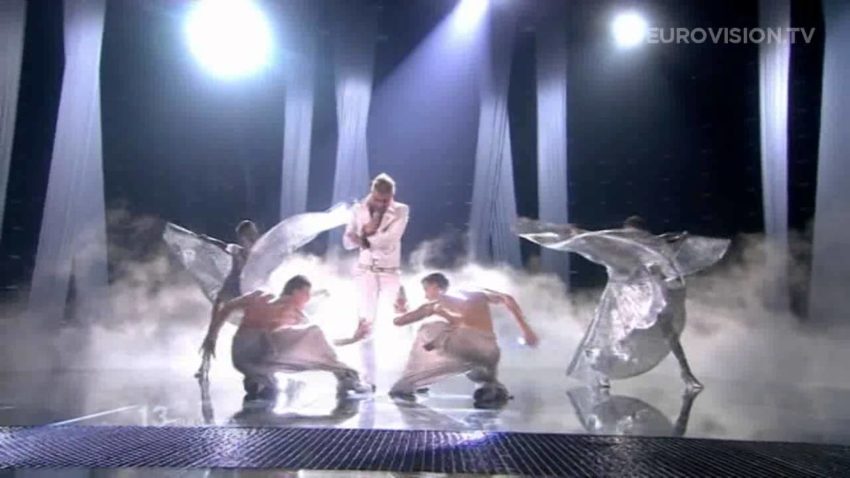 Bulgaria were appearing at the Eurovision Song Contest in 2010 for the sixth time, having only managed to qualify for the final once, in 2007. They were hoping to do better, when they sent one of their bigger stars, Miroslav Kostadinov, better know by his stage name, Miro.
Bulgarska Nacionalna Televizija (BNT) decided on 18 October 2009 to internally select their act for Eurovision 2010, and chose Miro, who had scored three number one hits from his album, Omirotvoren, in Bulgaria in 2009.
On 28 February 2010, Miro performed five songs at the National Congress Centre in Sofia. The song was picked by the Bulgarian public, who with nearly half of the votes, picked Miro's self composed song Angel Si Ti.
Bulgaria were drawn to appear in the second semi final, broadcast on 27 May 2010 from Oslo. Miro appeared in 13th position out of 17 entries, but unfortunately finished 15th with 19 points. Therefore, Bulgaria missed out on the final again, and in fact wouldn't see it again until 2016.
Angel Si Ti – opinions from fans
In order to find out what Eurovision fans today think of this Bulgarian entry from 2010, we asked our Eurovision Fan Panel. It includes team members as well as fans from all over the world.
Michael O. – This was an exercise on how not to stage a song at Eurovision, which was a pity as this is a terrific song. To me the instrumental backing in this song, is one of the best ever sent to Eurovision. Not only that, but Miro is usually a really good performer – so who know who was to blame for the Eurovision shambles. I'd like to see Miro back at Eurovision again for Bulgaria.
Liza P. – I had completely forgotten the stage presentation of this song – which is much better than the vocal performance. I love how the costumes are held in white and how the angelic/heaven theme is made visual with the wing-like fanes and the smoke. The song itself is fine, but whenever Miro starts singing oh-oh-oh, his voice seems to weaken and the oh-oh-oh are just in general annoying to listen to. But visually I'm very impressed.
  Vivienne F. – I always worry when a song starts off with a lot of Ohhhhhhhhh hoooooos, I'm thinking have they run out of lyrics already! The dancers looked sensual, then he started singing and it peaked my interest, as the melody is pleasant and Miro has a lovely voice.i enjoyed the upbeat chorus, but I still don't like the oooooohhhh ooohhh oooohhhhhhs. I also liked how it ended with the verse. Very nice. I think it should have qualified, it would have made it into my top 10 at no 10.
Alvaro S. – – I cringed a lot with the choreography. Miro's song must be about an angel but it looks like it was brought directly from hell
. The performance looks like a parody of a stereotypical eurovision song. Croatia should have learned the lesson in 2019 when they also tried this 'angelic' formula.
Quique B. – It's not my kind of song. Few seconds of a pleasant melody extended mechanically until 3 minutes probably by a robot. It's a song without soul like many others in the XXI century
Kostas C. – I do not find any good at this performance. Everybody is moving without having a choreography or without any harmony between them. And in the opposite the singer is standing. It does not match simple. I don't like neither the song. I find it quite boring, without any peak. In general bad song, bad live performance and poor appearance.
Charlotte J. – I didn't remember this song at all. It's quite enjoyable, but also quite forgettable. I don't mind hearing it, but it doesn't do anything for me. Miro's charm (if he has any) is unfortunately also lost on me. The beginning of the song is much stronger than the end. With one minute left, I start to look at the time.
Richard C. – Miro has a great strong voice that nicely builds to the catchy chorus, although it does get quite repetitive. I much prefer his vocals in the verses than the chorus. This is where his marvelous voice stands out for me. The choreography at times did appear quite busy and chaotic although it did fill the circular stage. Overall an enjoyable performance from this Balkan nation.
Wouter V. –  I had forgotten all about this song, a state to which I hope to return very soon. It starts out ok-ish, though with the dancers distracting ever so much from the performance. As Angel Si Ti progresses, the dancers can't distract enough from it.
Below you can watch Miro's performance from the second semi final from 2010. Below the video you can read more about him.
Miro – a brief biography
Miro was born, Miroslav Kostadinov in Dobrich, Bulgaria in 1976. He was part of the duo KariZma with Galina Kurdova, who attempted unsuccessfully to represent Bulgaria at the 2007 contest with the song Fool For You, which came a distant second.
Going solo in 2007, he released the single, Gubya Kontrol, Kogato (Lose Control), which featured a must see video. The song topped the Bulgarian charts. This was followed by two more chart toppers, Avgust E Septemvri and Ubivame S Lubov, both from the chart topping album, Omirotvoren.
Eurovision beckoned with the song Angel Si Ti, which despite not making the final, gave Miro his fourth number one single in Bulgaria.
Since Eurovision, Miro has continued to be a high profile act back home, winning awards for his music, and his fashion and style. Miro is currently in the Bulgarian charts again with the song, ОГЪН (Fire).