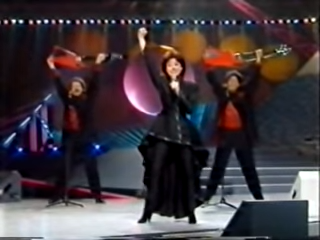 Liliane Saint-Pierre can look back on more than 55 years on the music scene. One of her many experiences includes the 1987 Eurovision apperance. 'Soldiers Of Love' is still remembered – and also loved by Eurovision fans.
In March 1987, the Amerikaans Theater in Brussels hosted the Belgium national final from where the winner would represent the country at Eurovision – one homefield – about a month later. 11 participants took part, and performing last proved to be good for Liliane Saint-Pierre. A professional jury only placed her 6th though, but the five regional juries saved her. 4 of them awarded her the maximum 12 points, and the remaining one had her in second place. Saint-Pierre and her Soldiers Of Love finished with 63 points. Bart Kaëll, who received the 12 points from the professional jury, finished second with 58 points.
At the Eurovision Song, Liliane Saint-Pierre received 56 points, which placed her 11th out of the 22 competing countries. This included points from 12 countries. Most generous towards Belgium that year was United Kingdom with 8 points, 7 from Spain and 6 from Italy.
Soldiers Of Love – opinions from fans
In order to find out what Eurovision fans today think of this Belgian entry from 1987, we asked our Eurovision Fan Panel. It includes team members as well as fans from all over the world.
🇸🇪 Sara T. – This is a wonderful little gem from the happy 80s 🙂 I love the song's energy and how it's impossible to sit still when hearing it. It's not a full 12 points though, because the chorus is lacking a little bit in energy. I would have liked a powerful choir in the chorus to match the explosiveness of the music. But other than that, this is a great song and performance by the sometimes underrated Belgium.
🇬🇧 Aaron S. – I like Soldiers Of Love by Lilianne St.Pier, it is my favourite Belgium entry in the Dutch language. I do feel the performance on the night wasn't as good as it could have been, down to her having a cold, which is a shame as if she could have performed the song when she was feeling good, this could have placed much better and challenged Johnny Logan to win.
🇩🇰 Charlotte J. – This is one of my favourite Belgian entries. It's catchy and extremely likeable. It wasn't as strong in the live contest as in the studio version, but that doesn't take away that that I think it deserved more than 11th place. 1987 is to me one of the strongest Eurovision years, and this couldn't beat like Johnny Logan or Tozzi & Raf, but I would personally have placed it 5th.
🇧🇪 Enis H. – Not my favourite entry from us, but it's decent compared to most songs we send. I still think she shouldn't have sung parts in English, because for me it ruins this song.
🇬🇧 Michael O. – There were quite a few good entries in the 1987 contest and at the time when I was younger I liked all Eurovision songs. But this wasn't that great although Liliane did perform it well on stage, but I hate these songs that throw in one line of a different language. This was never really in the running to win.
🇨🇴 🇫🇮 Alvaro S. – It is always difficult to represent a Eurovision country after a victory. However, I cannot notice the contrast between the previous year winner and this song. I like the militaristic style choreography including the guitarists holding their guitars as if they were weapons. This sounds like it could have been the soundtrack of a film or tv series from the 80s. And that is cool for me.
🇳🇱 Frank S. – Soldiers Of Love can be remembered as the most interesting song in the 3 competitions that Liliane St.Pier had to go through before reaching the final of the Eurovision Song Contest in home country Belgium.
If you would translate the lyrics, you'll be surprised how relevant the lyrics still are. Unfortunately….
Having that said, the music and the lyrics are really nice for this uptempo song, however, that performance on stage in Brussels….I still don't get it, but I guess in 1986 it was seen as quite modern.
So, in short, the song is still nice on vol.10 on speakers and I still know all the lyrics by heart! Love it!
🇹🇷 Güneç G. – A classic to date from Belgium's Liliane St. Pierre. It's an anthem-like song which makes you sing along to the whole day 🙂 And Lilianne's powerful stage performance is remarkable.
Enjoy Liliane Saint-Pierre's performance from the 1987 Eurovision Song Contest in the embedded video. Below the video, you can read more about her.
Liliane Saint-Pierre – a mini biography
With her first single released in 1964 still being active, Liliane's career has spand over many decades. In 2014, she celebrated her 50th anniversary at the age of 65. She has released songs in Dutch, French and English. Her latest album Karma was released in early October 2020.
Liliane was born Liliane Louise Keuninckx, but took on the name Saint-Pierre in order to sound a little more French more for the French speaking market.
When she represented Belgium at the Eurovision Song Contest in 1987, and finished 11th with the song Soldiers Of Love, she had already twice tried to make it to Eurovision. In 1978, she finished 4th in the Luxembourg national final with Baccara and their Parlez-vous Français? winning. Three years later, in 1981, she became the runner up in the Belgian national final performing Brussel.
Liliane Saint-Pierre has also been a judge on the Belgian edition of X-Factor.