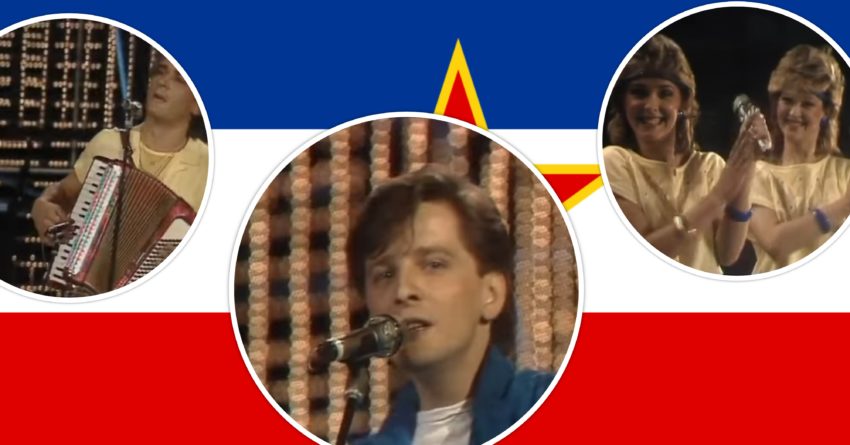 Danijel might not have had a glorious career after his Eurovision participation in 1983, but his entry 'Džuli' is still well remembered and loved by many fans. In fact, 37 years later, the song can also attract newer Eurovision fans.

A national selection, Jugovizija 1983, was held in March 1983. 16 songs competed and the winner was chosen by eight juries representing each their area. Danijel performed as the last of the 16 acts, and became a clear winner with 72 points. Runner-up with 54 points was the band Novi Fosili. They would later represent Yugoslavia at the 1987 Eurovision Song Contest and finish 4th with the song Ja Sam Za Ples.
At the Eurovision Song Contest, Danijel and his Džuli scored a 4th place with 125 points. Luxembourg's Corinne Hermès won with 142 points. Ofra Haza (Israel) came second with 136 points while Sweden's Carola Häggkvist in her first Eurovision participation finished third with 126 points, just one more than Danijel.
Danijel received points from 15 out of the 19 other countries. Only France, Sweden, Switzerland and Portugal did not have any points for his entry. 5 countries; Belgium, Denmark, Finland, Turkey and United Kingdom awarded Yugoslavia their maximum 12 points.
The music for Džuli is written by Danijel himself while Mario Mihaljević provided the lyrics.
Džuli – opinions from fans
In order to find out what Eurovision fans today think of this Yugoslavian entry from 1983, we asked our Eurovision Fan Panel. It includes team members as well as fans from all over the world.
🇷🇸 Miljan T. – This is one of the first songs I ever remember in my life. As a toddler, I of course didn't know about Eurovision. But Julie was EVERYWHERE in Yugoslavia. And she stayed with all of us forever. Even today. I'm immensely proud how it did in Munich. Especially being just after the legends that are Ofra and Carola. Also, this reminds me how back in the day at Eurovision everyone sang so well, like the studio version!
🇧🇦 🇩🇰 Elvir P. – Danijel performing Džuli is one of my earliest memories regarding the Eurovision Song Contest. I still listen to the song frequently. Yugoslavia was my clear winner that year. Džuli is such a catchy and "feel good" song and Daniel has always been a great performer. Actually, Džuli is among my top five Yugoslav Eurovision entries.
🇮🇪 Paul K. – This is really good. It's something you would expect from the 80's but doesn't feel dated. It's cheerful and something needed for a year like this. This is definitely a song I would listen to more often. Thank you for letting me know of this 😊 very good.
🇳🇱 Jacques H. – 1983 was a very strong year for songs competing for the number 1 spot, with enough songs struggling not to come last. I had recorded the singles of Carola (Främling), Ofra Haza (Chai), winner Corrine Hermès (Si La Vie Est Un Cadeau) and Daniel's Julie (Džuli) to my cassette player. I really loved Daniel's song. With its rock 'n roll vibe, I could relate to it as it was not a traditional Balkan song as usual. And then there was Bernadette's Sing Me A Song. What a wonderful year. What a joy to hear all those great songs again for this write-up!
🇬🇧 Michael O. – This is almost an exact copy of Shakin' Stevens song Julie, but still it deserved to do well and indeed it did. Lots of Yugoslavian entries were way too underrated so it was nice to see them finally make Top 5, before their final surge at the end of the eighties. Very likeable.
🇩🇰 Charlotte J. – I love this one. Though, I don't remember watching Eurovision before 1984, I do have memories of the English version of this being played in my childhood. Whether it was on radio or my parents had it on cassette tape, I don't know. It's catchy, and this Danijel is charming to look at. Just like Daniel Kajmakoski, who is named after him, is. The song is easy to sing a long to, and it never bores me.
🇩🇰 Tina M. – A typical 80's song. I like the sound of the accordion, which gives the song a very special sound. The song is very well done and the choir is so typically styled. I have to admit that this is a bit of a guilty pleasure for me. 8/10 points. I think it still holds up, a song I like.
🇨🇴 🇫🇮 Alvaro S. – This is one of my favourite songs from Yugoslavia in the Eurovision Song Contest. Even better than the winner of the former country. And there is something cute and charming of Danijel and his supporting dancers through the whole performance that makes this entry lovely and easy to remember.
🇬🇧 Steve P. – Almost since its participation, Dzuli has been a fan favourite, and I've never really understood why! It's pleasant enough to listen to and the whole package is quite entertaining (especially the parts of the song that require Daniel to almost yodel!), but I'm not convinced its status as a classic is deserved. While I wouldn't turn the volume down if it was played on the radio, there are many better songs in the 1983 contest.
Enjoy Danijel's performance from the 1983 Eurovision Song Contest in the embedded video. Below the video, you can read more about him.
Danijel – a mini biography
Daniel (Danijel) is the stage name of Milan Popović, who was born on October 29th 1955. Popović was raised in Montenegro, but in 1997 he moved to Zagreb to pursue career in pop music.
Like many other Eurovision participants, Daniel didn't manage to follow up his great result from Münich, Germany. Back in 1991 he tried to represent Yugoslavia at Eurovision again with the song Daj Obuci Levisice. The song became his first big hit after Džuli. Daniel finished second – only two points behind the winning song Brazil by Bebi Dol.
In early 2005 he went to Montenegro hoping to resurrect his singing career. Daniel released 12 studio albums in total, and his last album Fantazija is from 2013.
Daniel has been married four times and he has four children.