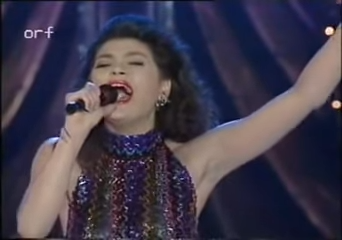 1992 was the year where Yugoslavia's name would appear among the Eurovision participants for the last time. Under the name Extra Nena, Snežana Berić represented a country that didn't exist anymore. She finished in 13th place.
Croatia, Slovenia and North Macedonia had already left Yugoslavia. A gruesome war had torn the federation apart. Neighbours were killing each other, and all over the region, entire populations were forced to flee in an attempt to save their lives.
At the time of the 1992 Eurovision Song Contest, Yugoslavia was already history. On paper, the 'country' that participated under that name consisted of Serbia, Montenegro and Bosnia and Herzegovina, but that federation didn't exist. Bosnia & Herzegovina had left Yugoslavia the 1st of March 1992.
Jugovizija 1992 held on the 28th of March, was used to select the last ever Yugoslavian Eurovision participant. There were 20 songs in the final from the five remaining subnational public broadcasters; RTV Belgrade, RTV Montenegro, RTV Sarajevo, RTV Prishtina and RTV Novi Sad. Extra Nena (Snežana Berić)  won with the song Ljubim Te Pesmama.
At the international contest in Malmö, Sweden Snežana Berić finished in 13th place.
Ljubim Te Pesmama- opinions from fans
In order to find out what Eurovision fans today think of this Yugoslavian entry from 1992, we asked our Eurovision Fan Panel. It includes team members as well as fans from all over the world.
🇬🇧 Steve P. – It was a night of lasts for Extra Nena! She would perform last and would be the last Yugoslav representative in the contest. Although she finished midway down the scoreboard, musically, she took Yugoslavia out on a deserved high. The song has an unusual but easy to follow construction. Sadly, there's not much of a Balkan flavour (something that didn't really appear until the former Yugoslav republics did their own thing), but I like the gentle, sing-a-long but not on a tacky way, quality the song has.
🇨🇴 🇫🇮 Álvaro S. – I like how the sound of the accordion and the deep voice of the singer create a bohemian atmosphere at the beginning of the song and how this feeling suddenly change in the chorus. The lyrics talk about saying goodbye and it was indeed the last time Yugoslavia competed as one sole participant. And it was a beautiful, elegant way to say good bye.
🇵🇭 Vance T. – I like this one. It's like the entry of Portugal back in 2012. The accompaniment of accordion gives it a sophisticated and classy feel. I love it!
🇨🇿 Josef Š. – I like female singers with such deep voice as Extra Nena uses in verses. This is specific for Balkan singers. But if this song would have been sung in Portuguese, it could be misplaced with a typical Portuguese fado songs (according to verses and use of accordion). Refrains are gentle and I see myself on holiday in some of the Balkan countries. Therefore I think it is a nice refreshment from other typically pop songs. Actually this being the last Yugoslav song is a really nice "good-bye" entry.
🇵🇹 Marcelo P. – The song got my attention from the very beginning because it sounded so familiar. It seemed like a local version of the Portuguese rhythm 'fado'. The singer was great but her style is quite old-fashioned. I know it was one of the favourites in 1992, but nowadays most songs are in English and I believe people nowadays would find it quite boring.
🇬🇧 Michael O. – What a great final song from Yugoslavia. Her low vocals in the verses take a bit of getting used to, but by the chorus all us up and swinging. I saw it as a potential winner but there were an awful lot of good songs in 1992.
🇧🇦 🇩🇰 Elvir P. – I was disappointed when Arnela Konaković didn't win Jugovizija with the beautiful song Prva Noć back in 1992. However, Ljubim Te Pesmama is one of the better Yugoslav entries in the history of the contest. I especially like the sound of the traditional urban music and the nostalgic atmosphere that the song evokes. The feeling of sentimentality for the past is furthermore increased by the fact that this was the last Yugoslavia entry at Eurovision.
🇦🇺 Michael R. – Yugoslavia's swan song at eurovision feels like a wistful goodbye to a nation in its twilight. I don't find anything particularly special or remarkable about it, but it feels like a fitting farewell for Yugoslavia at eurovision.
🇬🇧 Ashleigh K. – This song feels older then 1992… if I didn't know better I'd say this was a song from 1962. I know from the comments on YouTube that a lot of people like this but I can't connect with it and I'm not sure why. Maybe because it sounds like big band and I don't like big band or music from that era.
🇩🇰 Charlotte J. – While there's part of the music that I really like, her voice unfortunately kills it all for me. It's really too annoying for me to listen to, and half way through, unfortunately I have to give up.
🇬🇷 Kostas C. – Not a bad song at all. The sound of the music reminds me of traditional "Yugoslavian" music. Very melodic however. The dress is also very common for the ex Yugoslavian countries. In general a very nostalgic and nice ballad, but I definitely prefer their previous entry of 1991, the iconic Baby Doll. Sorry Extra Nena!
Enjoy Extra Nena's performance from the 1992 Eurovision Song Contest in the embedded video. Below the video, you can read more about her.
Extra Nena – a mini biography
Snežana Berić, better known as Extra Nena, was born in 1960 in Belgrade. During her career, the last representative of Yugoslavia in the Eurovision Song Contest received more than 20 awards at various national music festivals.
After the contest, Extra Nena continued to enjoy success in Serbia, releasing a number of albums. After launching the album Samo Tvoja in 2007, she withdrew from the Serbian music scene, completed her doctorate in economics and now works as a lecturer for intercultural management and management in art and music at the private Megatrend University in Belgrade.
In 2019, Extra Nena made a comeback to music as she released a new album Marioneta and took part in Beovizija, the national final, as well.