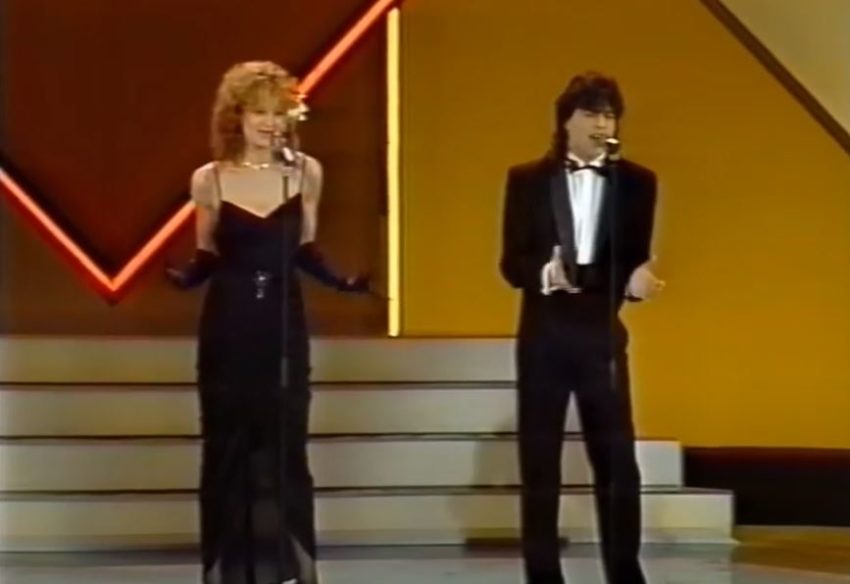 Yugoslavia has participated 27 times in the Eurovision Song Contest from 1961 till 1992, with one victory and many accomplished and colourful entries. Their 1984 entry "Ciao Amore" performed by Vlado and Isolda was one of those colours in Eurovision Song Contest that didn't get the result that they were expecting.

Jugovizija 1984 was held on the 23rd of March 1984 in Universal Hall Skopje to select the country's Eurovision entry. The show was broadcast by JRT and hosted by Blagoja Krstevski & Ljiljana Trajkovska. Among 16 finalists, Ljubavna Priča Br. 1 performed by Ida & Vlado was selected to represent Yugoslavia in Luxembourg by jury votes from 8 regions.
In Luxembourg, Vlado and Isolda took the stage 12th in line. The song's name was changed to Ciao Amore. The song was a mid-tempo, modern, romantic pop song about summer love.The couple wore black costumes to match each other. After their romantic performance, they received 26 votes and placed 18th.
Ciao, amore – opinions from fans
In order to find out what Eurovision fans today think of this Yugoslavian entry from 1984, we asked our Eurovision Fan Panel. It includes team members as well as fans from all over the world.
🇩🇰 Charlotte J. – 1984 is the first Eurovision Song Contest I remember watching. It's that contest which made me a fan. It's not this song though. It was the songs from Denmark and Sweden in particular. This entry from Yugoslavia wasn't bad, it sounds Italian in parts. It was just not catchy in the same way as others. I really like the chorus, the verses a bit less — and finally, I am not too convinced that their voices match each other on this song.
🇲🇹 Christopher D. – It is the first time I am listening to this song. Since it is a 1984 song it is quite pleasant to listen to, although it tends to get a bit repetitive after the first half. I did not like the stage performance. But the male singer has a unique voice. Reminded me of Toto Cutugno who won the Eurovision for Italy with Insieme.
🇬🇧 Paul G. – Don't ask me why, but I actually like this. It's been a long time since I've heard it, and the memories of 1984 come flooding back!
🇫🇮 🇨🇴 Alvaro S. – I like the melodies, they have this typical sound of the decade. Vlado's voice however is too raspy. If people found Serhat's voice painful to watch, I wonder how many packs of cigarettes this guy smoked every day to have this voice. It was painful to listen his parts in the song.
🇧🇦 🇩🇰 Elvir P. – Ciao Amore is one of the better Yugoslav entries from the 80s. The whole package reminds me of Italian style, which was very popular back then in Yugoslavia. Romance and elegance. Isolda and Vlado are cute together and their voices match each other pretty well, although Isolda was out of tune in some sequences. However, this song deserved much more than 18th place out of 19 songs.
🇩🇰 Tina M. – Ciao Amore with Vlado and Isolda is a little hard for me to judge. I'm really happy with the melody, which shows so many nuances in a wonderful 80s mood, but I do not think that Vlado's voice fits the fine and light melody. However, the chorus is far better mood-wise than the verses themselves, but Vlado's voice just seems annoying to me. As such, I like the song, but I personally would be far happier if Vlado had been replaced with a singer with a slightly lighter voice. I will give the song 4/10.
🇬🇧 Michael O. – Such a summery song of its age. I loved the song, was very disappointed it did so poorly. Always reminds me of lazy days by the beach.
🇷🇸 Milosav T. – Unlike the 1983 and 1986 representatives, Ciao Amore was not one of the favourites of the Yugoslavian people. This may be due to the fact that an awesome duet of Sladjana Milosevic and Dado Topic called Princeza was seen as a better choice by many. Indeed, it remains a huge hit until today, which can't really be said for Vlado and Isolda's little song. I share that opinion. One thing I always wondered about is also how Isolda got to go to Eurovision for three years in a row, considering that back then Yugoslavia was quite a big country, and she really never was that much of a star…
🇹🇷 Gunec G. – This is a sweet, romantic and catchy summer song. Although I can define Vlado and Isolda an odd couple, they looked quite adorable on stage. I think Isolda is one of the prettiest girls on the Eurovision stage. Contrary to many fans, I find Vlado's song very powerful and romantic. I think they didn't deserve the second last place.
🇬🇷 Christos T. – Good song for it's time to be performed in the Eurovision Song Contest, but not so good for getting out of the Eurovision song's recipe and being one of the favourite songs for the audience.
Enjoy Izolda and Vlado's performance from the 1984 Eurovision Song Contest in the embedded video. Below the video, you can read more about them.
Isolda Barudžija – a mini biography
Isolda was born in 1963 in Split Croatia. She started singing in 1978 in local choirs. She has represented Yugoslavia thrice in a row in the Eurovision Song Contest. In 1982, she graced the Eurovision stage as the member of the group Aska. In 1983, she was one of the vocalists of Daniel Popovic along with her sister Eleonora. Finally, in 1984, she was on the ESC stage again as a part of the duo Vlado and Isolda. After her Eurovision adventure, she continued her musical career as a duo with her sister Eleonora. They have released many songs and participated in Festivals together. In 1992, the sisters have tried for Eurovision again with their song Hej Hej, Vrati Se. After that, the sisters continued their solo careers. Isolda was a part of the group VOX from 1994 till 2011. She is married to Serbian musician Zlatko Manojlović and lives in Germany.
Vlado Kalember – a mini biography
Vladimir 'Vlado' Kalember was born on the 26th of April 1953 in Strumica, present day North Macedonia. He is famous for his smoky, powerful and characteristic voice. During the 70s, he was a member of the celebrated pop group Srebrna Krila. He left the band and continued his career as a solo artist. In 1984, he represented Yugoslavia together with Isolda Barudžija in the Eurovision Song Contest. He has many singles such as Vino Na Usnama, Ja Nisam Kockar, Ana, Lili, Otkad Si Otišla, Ja Odavde, Ona s Juga, Odoh u Mornare and Doris. He is married to famous cellist Ana Rucner, who represented Bosnia and Herzegovina in 2016 along with Deen and Dalal Midhat.